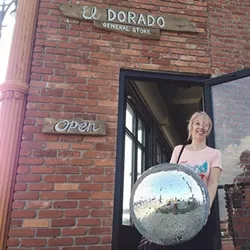 The hipsters have spoken!
That's right folks, those crazy millennials over at
Buzzfeed
released a list (shocker, we know) of the most hipster neighborhood in every state and our very own Corktown neighborhood was crowned the top dog.
The article mentions the El Dorado General Store as being one of the biggest reason why it's so hipster, because I don't know — hipsters love cool little trinkets?
They also mention DittoDitto, the indie book store, and that totally makes sense. Most of the people inside there have an odd tattoo of a taco or a massive spoon because they like to cook or something.
The last spot they mention that makes Corktown so ~hip~ is Astro, the cute little coffee shop that offers locally roasted coffee and baked goods. Once again, pretty hip.
Was there another Detroit neighborhood that you think all the hipsters flock to? We thought the list was going to say Indian Village, considering you feel like you're walking through Williamsburg, Brooklyn the second you hit the main drag on the neighborhood, but clearly the area is still under the radar — even for
Buzzfeed
.