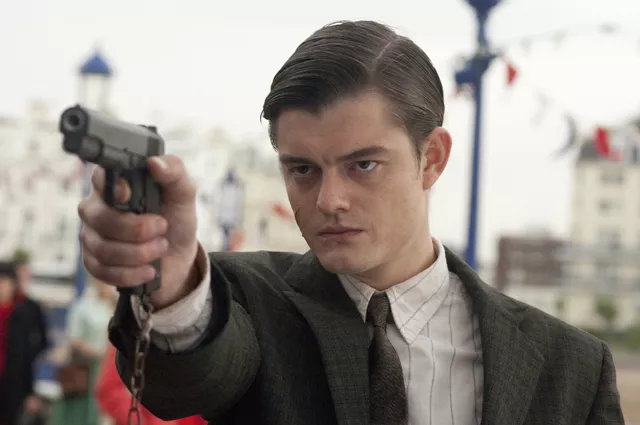 Brighton Rock
B-
Written and directed by Rowan Joffe. Starring Sam Riley, Andrea Riseborough, Helen Mirren, John Hurt and Andy Serkis. Running time: 111 minutes. Not rated.
Brighton is sometimes considered little more than a seaside tourist trap best known for craggy beaches and throngs of London day-trippers crowding the carnival attractions at its famous pier. But it is well-kept and littered with famous British folks, from rock stars to royalty. So it'd seem to be as likely a setting for a gritty gangland caper as Traverse City. Yet the locale is just one more bit of weirdness in Graham Greene's caustic crime novel, which was first adapted into an edgy 1947 gem. The entertaining but flawed remake shifts the action ahead to the mid-'60s, a time when England's cinemas were awash in "Angry Young Men," and Brighton Rock offers us the angriest of the lot, a seething mass of bitterness named Pinkie Brown played with raw energy by Sam Riley. He's not on the level of, say, Albert Finney or Tom Courtenay, or the marvelous young Richard Attenborough of the original, but Riley's is a magnetic force that keeps all eyes on him even when he's being utterly wretched. 
Pinkie is the sort of Catholic who firmly believes in hellfire and perdition, but is more dubious about the notion of heavenly reward. Not that he's got any treasures stashed in the afterlife; as he's too busy laying his grubby mitts on any earthly loot in arm's reach. He's de facto leader of a petty little gang and is so laser focused on felony that he doesn't drink or smoke, driven solely by nastier vices. To him love is nothing but claptrap and bother, but that feeling is not shared by Rose (Andrea Riseborough) the moon-eyed young waitress who falls instantly for the brooding brute. 
Rose is potential witness to Pinkie's savage offing of a rival gang leader, and to prevent her from testifying against him, he does the only sensible thing and marries her. The seen-it-all tea shop matron (Helen Mirren) is on to Pinkie's game, and tries to save Rose from her own lovesick delusions, but the girl's not listening. This is no romance for the ages; it can only end in tears and blood. 
Directed as if his life depended on it by screenwriter Rowan Joffe, Brighton Rock (which refers to the candy Pinkie leaves as a calling card) is a deliciously lurid and overwrought noir, lousy with ratty overcoats, swirling smoke, religious icons and menacing, shadowy alleyways. Even the cheerful boardwalk looks shabby at the edges, the cold, relentless waves lapping cruelly at its rusty steel beams. Each nanosecond is high-tuned for effect, and Joffe layers everything in stark lighting, Dutch angles and a pounding score. This overload of style is overcompensation for a failure to rein-in the actors; especially Riley, who snarls or glowers his way through nearly every moment. He's a terrific thug, but so unpleasant that we can never understand why Rose wouldn't run screaming the other way. He's a creep, she's a fool, and, in the end, it's all a pity. 
Opens Friday, Sept. 9, at the Landmark Maple Art Theatre, 4135 W. Maple Rd., Bloomfield Hills; 248-263-2111.