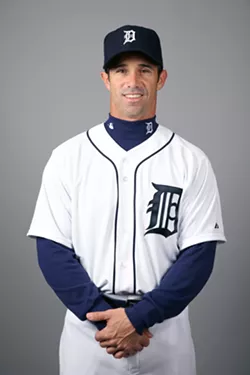 Do you want to own Brad Ausmus' sweatshirt? Now is your chance. For only $10, you can increase the bid of the coach's "rage-quit" discarded home plate sweatshirt,
according to Deadspin
. The bid opened at 1:30 p.m. Wednesday, May 18 and will end next at 9 p.m. Wednesday, May 25.
Ausmus removed the sweatshirt and covered home plate with it during his argument with umpire Doug Eddings.
The sweatshirt is being auctioned at
MLB.com
. And check this out, all of the proceeds will go to the TinyTigers T-Ball program, which is funded by the Detroit Tigers Foundation. The Detroit Tigers Foundation focuses on youth, education and recreation to enhance lives through baseball. The organization helps fund positive programs that reach fans in a positive way. Ausmus donated the sweatshirt following his ejection on Monday to the organization in order to raise money for youth baseball in Detroit.
If you're interested in the auction, click
here
.