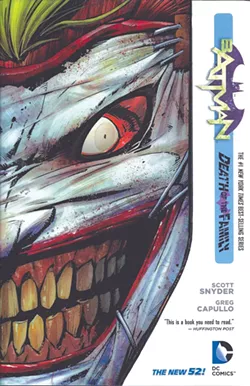 Dead Pig Collector by Warren Ellis
$.99 | Kindle, Nook, Google Play
Mister Sun runs a unique business. He's a hired killer with an unusual skill and he heads to L.A. to get his latest job done. The key isn't just in the kill; it's how he disposes of the bodies. Dead Pig Collector does more with its 29 pages (Nook edition) than many novelists do with hundreds of pages. The book takes a surprising turn when Mister Sun meets a girl. Now, any good love story should be about conflict. What's perceived and what's actually imagined? You've got some of that here for sure, but when those worn conventions are tossed out the door, the book gains speed.
Warren Ellis, the man behind beloved comic book franchises, Planetary and Transmetropolitan, takes a simple premise and basically turns it on its head. Dead Pig Collector is in the exact same orbit as his previous novels (2007's Crooked Little Vein and 2013's Gun Machine), but its brevity gives it a drive the former actually lacks.
If you don't own a dedicated e-reader, download a Kindle, Nook or Kobo app because you're going to want to read this. If you're a writer, it's a master class performance worth studying — a compact gem with a rough under edge. You can't go wrong with Dead Pig Collector, but be warned: This will make you laugh, make you sick (in-depth descriptions of how to dispose of a body) and, in the end, you might even cry. It's that powerful so check it out.
Batman Vol. 3: Death of the Family
by Scott Snyder and Greg Capullo
$24.99 | DC Comics | 175 pp.
In every generation, a Batman story comes along to shake things up, rocking the foundation in ways that ripple straight across the comics medium, then ending up in the mainstream by some frenetic osmosis. Frank Miller's comic miniseries, The Dark Knight Returns, put the darkness back into the Dark Knight in the 1980s. It was another two-plus decades before the next evolution of the character happened on-screen with Christopher Nolan's critically acclaimed trilogy.
For better or worse, Batman's gotten another upgrade — and we're not talking the next Man of Steel movie, co-starring Ben Affleck as the caped crusader. Arguably, Scott Snyder (writer) and Greg Capullo (art) are doing one of the darkest takes on the Joker since Alan Moore's Batman: The Killing Joke.
Snyder takes the reader deep into the insanity of the Joker. He's back, after seemingly being deformed and defeated. It's been a year and he wants to get revenge against Batman's closest allies. It's a complex tale that's difficult to read at times (even if most of the atrocities take place off-panel). People loved Man of Steel and can't wait to see him team up with Batman. If you're jonesing for that next big Batman story, Death of the Family strikes all the major and minor (tragic) keys.