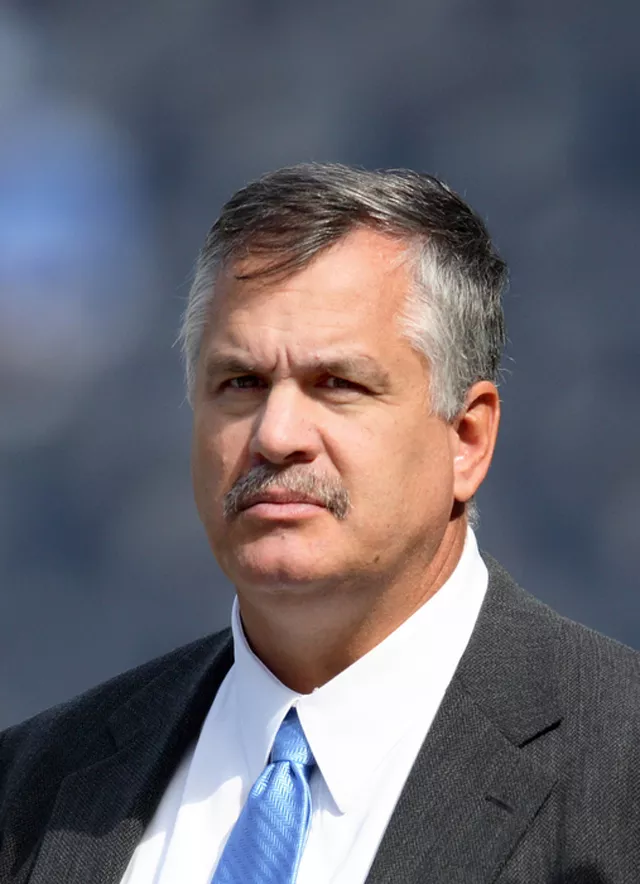 With the official end of the Big Ten football regular season schedule Saturday, there's one less place we'll have to suffer his presence. But you know Matt Millen will bumble and bluster through tomorrow night's Thursday Night Football Texans-at-Eagles contest on the NFL Network. And Monday Night Countdown next week on ESPN. And holiday football bowl games on ESPN and ABC. And for all we know, an upcoming cameo on Grey's Anatomy, preferably as a cadaver.
Is there no escaping this boob? Is Detroit's collective blind rage over Matthew George Millen — the ex-jock who, in eight looong years as the Detroit Lions president, CEO and Lord High Executioner, singlehandedly set one of the NFL's oldest and proudest franchises back at least 10 years in its development and made it the laughingstock of the sports world — so overpowering that we can't appreciate his sparkling charisma and outstanding broadcasting skills that others obviously see? Or, more likely, does this Tank McNamara of television have negatives squirreled away of top executives at the alphabet-soup land called ESPN on ABC in compromising positions, forcing them to put him on the air at every opportunity?
He is boorish. He is not what even the most generous observer might call telegenic. He delivers his opinions and insights — none particularly opinionated or insightful — with the same mangled growl as the lout on the next barstool. He walks upright, so he fools people. But in the entire universe of retired NFL players, there isn't one guy who could do a better on-camera job covering pro and college games than Matt Millen? (This echoes my question of why 102-year-old beefhead Jim Brandstatter seems to be the only man capable of providing radio commentary for both University of Michigan and Detroit Lions games, but I digress.) Doesn't even the most casual football fan know that Millen presided over the only 0-16 losing season in the history of the National Football League?
Earlier this fall, when ABC selected Millen to provide color commentary for the annual Michigan-Michigan State football clash, then defended its decision to do so, it was like sending daggers into the eyes and ears of sports fans statewide. In an age where we keep hearing every viewer is precious to the networks, as audience levels continue to dwindle, it's hard to understand why any broadcast group would alienate and outrage an entire region, deliberately or not, through such a shocking display of insensitivity.
Matt Millen sold auto tycoon William Clay Ford a lemon: himself.
With absolutely zero front-office experience, he became the second-highest-paid executive in the NFL at the time, yet didn't even bother to move to Detroit to conduct his business, preferring to commute from his native Pennsylvania. (Next time someone offers you a seven-figure gig, ask 'em if they care where you live.) And he didn't bother to say goodbye when he left — after admitting on NBC that he would have fired himself at least a year earlier — just taking his millions and slithering back to television.
This is the man who called Monday Night Football analyst and former NFL star quarterback Ron Jaworski a "Polack" and ex-Lions wide receiver Johnnie Morton a "faggot." In public. Within earshot of others, including media scribes. While he was representing the Lions, Detroit and us. He eventually apologized, but apparently Millen has never considered character much of an issue for himself nor for the players he drafted for the Lions. (See: Rogers, Charles). He's laughing at us, and he should be.
Let's say, after 25 years of writing about television for various publications, I decide to scrap it all and produce my own TV series. I pick all the actors, hire the directors and the crew, even write the scripts. The show premieres and is an obvious turkey, having even less viewer appeal and ratings potential than Lone Star did on FOX. Yet for some inexplicable reason, the owner of the network lets me stay on the air for years, dragging the entire company into the toilet with me. Finally, mercifully, I finally get fired, but return to Metro Times as its television columnist. Would you ever again believe a single word I wrote?
I wouldn't expect you to, but this paradigm of logic seems to have escaped the sporting nabobs at ESPN, ABC and the NFL Network. Anybody catch his Millen-being-Millen moment last week on Monday Night Countdown when he tried to bully Hall of Fame quarterback Steve Young off his opinion that Brett Favre is running the Minnesota Vikings? His eyes were blazing like he wanted to deliver a helmet-to-helmet blow to Young's head right there. Still, that pales in comparison to the Detroit slap in the face during the Chicago Bears victory over Miami on Thursday Night Football last month. When NFL cameras focused on Bears defensive coordinator Rod Marinelli — the same Marinelli Millen hand-picked to "mastermind," if you will, the Lions' winless season — Millen gushed, "That guy right there is one of the best coaches I've ever been around." Did no one else consider calling this blockhead on conflict of interest? Tactless ego stroking? Or, at the very least, revisionist history?
I am a Christian, and as such I believe that we shouldn't necessarily hate anybody. Yet it seems Millen is blindly blundering along, doing better than ever. We live in an age where asses and airheads appear to be ruling the world of entertainment, and in Matt Millen we have landed the rare daily double. Maybe down deep I'm just jealous I don't have his agent. Who is this guy, Criss Angel?
I hope Millen will someday write a book: How I Made Millions With No Experience and Less Talent. I'd love to ghostwrite it for him. But I don't trust myself to be in the same room alone with him that long.

Twenty questions, minus 18: Is anyone else breathing a huge sigh of relief that Bristol Palin didn't win Dancing With the Stars? My biggest fear was that TLC would have wanted to produce an extra episode of Sarah Palin's Alaska to celebrate the victory. ... Are fans of Psych even old enough to remember Twin Peaks? The delightfully goofy USA comedy-mystery series salutes the 20th anniversary of David Lynch's creepy cult classic with a special episode at 10 tonight featuring guest appearances by former Peaks performers Sherilyn Fenn, Ray Wise, Sheryl Lee, Dana Ashbrook, Robyn Lively, Lenny Von Dohlen and Catherine Coulson. Is the world about to discover that Shawn and Gus killed Laura Palmer?