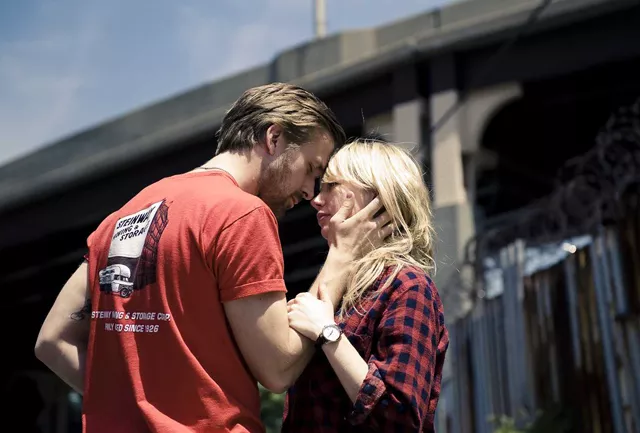 There's inescapable attraction in peeking through slightly cracked doors, but the intensely personal Blue Valentine invites you in and demands that you rifle through the underwear drawer while no one's looking. The film's stock-in-trade is squirmy, uncomfortable intimacy, as we watch a young romance flare up, burn and then slowly extinguish. What we don't get is the warm and cozy middle, or very much in the way of exterior context, as director Derek Cianfrance zooms the camera way in, almost inside the souls of his doomed lovers, and seldom comes up for air.
Fortunately he's cast two of the finest young actor's working today, who can fully submerge themselves in a role, and more than carry the heavy emotional payload. Michelle Williams plays Cindy, and Ryan Gosling plays Dean, two seemingly nice kids who meet in an oddly tender place, a nursing home, where he's helping to move someone in, and she's visiting her fading Grandmother. There is a gulf between them, socially, economically and perhaps spiritually, but they can only see the electric sparks arcing between them. They fall hopelessly foolishly in love, and nothing, including boyfriends, family strife, money woes and an unexpected pregnancy can drive them apart, only they can do that to themselves.
Williams is incredible as a girl smarter and more foolish than she'll ever let on. Cindy's a nurse with grander career ambitions. Dean has no vision beyond Cindy's immediate orbit, and considers playing family man the noblest thing he can achieve. This isn't enough for her, she pushes him to explore his buried creative talents, but he's more likely to have a cigarette or a beer in his hand than a pencil. Gosling is unafraid to let his looks go, sporting thick shades and a thinning hairline in the later scenes, he makes a sad loser into something endlessly compelling, though at times his performance veers towards the showy.
The script, by Cianfrance, Joey Curtis and Demi Delavigne, is a tightly structured though unconventional narrative. By treating the beginning and the end of the relationship as essentially parallel lines, the film veers back and forth between heartache and elation, creating a strangely beautiful tension. Some of the most intimate moments, feel improvised, with a raw John Cassavetes inspired immediacy. Much was made over the movie's sexual content, which initially earned it an NC-17, though there's nothing here more graphic than merely suggestive. It could be that the censors were fooled by the quality of the acting, thinking they were seeing something racier.
Blue Valentine is deeply personal, but just vague enough to be universal about the corrosive nature of intense passion. It could simply be that Dean and Cindy are a bad match, toxic for each other from the start, and though it's is obvious to us on the outside, they ignore the internal warnings. If anything, this is the painful, bittersweet lesson that Blue Valentine forces down our throats, no matter how wonderful, and no matter how much we need it, love isn't something we can choose.
Opens Friday, Jan. 17, at the Birmingham 8 (211 S. Old Woodward Ave., Birmingham; 248-644-3456), and at the AMC Livonia 20 (19500 Haggerty Rd. Livonia; 1-888-AMC-4FUN).