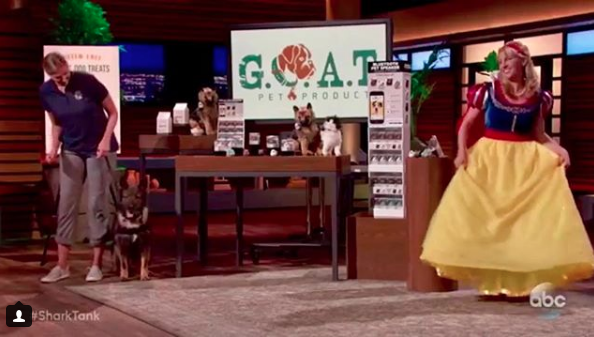 On last night's episode of ABC's
Shark Tank
, a metro Detroit entrepreneur pitched her idea to a panel of rich investors and came away with almost half a million dollars.
Michelle Winowich of Bloomfield Hills is the founder of G.O.A.T. Pet Products. She pitched her pet speaker to the shark panel and tech giant Robert Herjavec took the bait. Herjavec saw promise in Winowich's pet communication piece and offered her $499,000 for a 33 percent stake in the company. Winowich accepted Herjavec's offer and moved forward with production using her newly-received funding.
The G.O.A.T. pet speaker lets owners program their pet's speaker with a virtual voice using different accents and phrases entered within the speaker's app. The speaker hangs from the pet's collar and is connected to an owner's phone via Bluetooth. The accent and language can be changed at anytime on the pet profile.
Other features from the G.O.A.T pet speaker include a pet calendar, a selfie button that allows the speaker to snap a quick pic with your pet, and music streaming to lull your pup to sleep when nap time comes around.
The speakers are listed on the G.O.A.T. pet products
website
for $19.99 and the app is available on the App Store and Google Play free of charge.
Anthony Spak is an editorial intern with Metro Times and a recent graduate of Oakland University's journalism program. Spak spends most of his time in Detroit playing music or eating gyros at Golden Fleece.