More than 700 days ago, the nation was mourning the loss of two Black men, both of them caught on camera. In Baton Rouge, Eric Garner was strangled to death by police officers outside of the corner store, where he gasped the words "I can't breathe" and created the battle cry for the #BlackLivesMatter movement. The next day, in Minnesota, Philando Castile was shot by a police officer and his murder was live streamed by his girlfriend, Diamond Reynolds, who was in the passenger seat. Social media timelines were flooded with graphic images of these Black men struggling to stay alive. Anyone anywhere could log in or do a quick search and see this clear and visible disregard for Black life, once here and now gone, from down South to the Midwest.
"That started the thought process of how we are perceived in media, especially now — like we're so desensitized to violence and literally seeing this every day," says curator Donald Dudley. "So the idea became, 'What was the Black identity? What was the Black image? What does the Black body look like?'"
Instead of sitting idly by, Dudley and his newfound business partner Laura Gibson decided to make an event where producers and consumers of art could respond to these tragedies as best they know how: through art. The duo's debut show, Black Identity: Redefining the Black Body, was held in February 2017 at the Carr Center, featuring more than 50 artists and some 200 pieces of art, along with a jam-packed schedule of programming throughout the month.
For the second year in a row, the duo will grapple with this question and highlight a group of curated artists to consider the tension between a vibrant Black artistic culture and the traumatic realities of Blackness that fill news channels and newsfeeds. This time, the #BlackID exhibit draws inspiration from the incessant feedback loop of today's social media conversation.
"The response that we've gotten to programming we've had around #BlackID was a direct result of need," says Dudley. "We want to provide what people say they need."
Over the last few years, Black Twitter has served as a tool for conversation, education, and even trendsetting. Despite its vast reach and scale, social media conversations have a sense of intimacy and immediacy that other platforms don't offer. #BlackID is not just a catchy name — it's a call to action that invites consumers and producers of art to join the conversation about Black identity. Dudley and Gibson hope the discussion will continue well beyond this year's exhibit, which runs for the next month.
"We want you to hashtag it and tell us how you feel about it, tell us what your thoughts or your feelings of [what] this art is making you thinking about here at this moment," says Gibson. "Detroit is a reflection of the visual arts and Black culture, or even other marginalized communities, or people who don't get that representation. We're able to do something like this for the second time which is amazing, and we want you to be continuously engaged."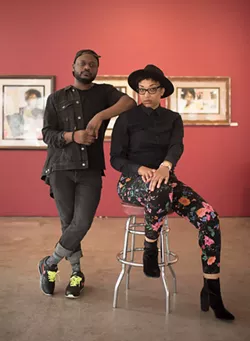 Both Dudley and Gibson graduated from Cass Tech in 2009, but they didn't really get to know each other until Dudley curated an event called Wake Up at the Baltimore Gallery in the summer of 2016. Gibson was a visual artists fellow at the Carr Center at the time and wanted to keep eye on the local events that were bringing artists, thinkers, and creatives together. They chatted for a while after the event and Gibson hipped Dudley to the event space in the Carr Center, a celebrated institution in the city that was increasing efforts to invite and highlight new voices in artistic conversations. Eventually, Dudley stopped by the Carr Center and the two quickly realized that the next event would be a joint venture. With Gibson's curatorial background and artistic network, plus Dudley's approach to social programming and savvy take on street style culture, they could unite many of Detroit's disparate identities.
"There's a light on us now, where people are noticing the city," Dudley says. "That's what I want to see, more of us in Detroit — us using the platform and the light that's on us to show what we really can do. We also can't wait for others to do it for us."
Gibson refers to Dudley as a "low-key genius" and Dudley brightens up when Gibson finally and nonchalantly divulges the gems of her impressive resume. She studied art history and anthropology at Grand Valley State and will begin a master's of photography at Cranbrook Academy of Art in the fall. Gibson runs Chilliad Creatives, a creative consulting, management, and curatorial company. She's also the communications liaison for the Detroit Fine Arts Breakfast Club, a weekly meetup where legendary and novice artists meet up to share, discuss, and sell their art. Dudley runs a street-culture lifestyle brand called Foir, along with his business partner, Clue. In April, Foir was commissioned by Nike to collaborate with Cultivator, a sneaker design group, to create an Air Force 1 and Air Max 1 design inspired by Detroit. It's safe to say that both Dudley and Gibson are a pretty big deal, but they're still tied to the community and committed to sticking around as the art landscape transforms and expands.
"We opened up the theme a bit, so that we could encompass more of Black culture than the negative images that we see," says Dudley. "The variety of artwork in the show will show positive and uplifting images of Black culture. We're not trying to push our story, we're giving artists a platform to show theirs."
This year, the #BlackID exhibit will feature familiar faces as well as newcomers. Christian Davis — a visual artist, award-winning filmmaker, and founder of Sweet Obsession Films — has been collaborating with the duo from the jump. He has been painting since he was a child, but it took a while for him to translate his interior feelings and the current political circumstances into art.
"I feel like this is the right time for Black artists to express themselves creatively and have their voice be heard, and not really hold back," says Davis. "Really go for it and have people really rock with your work."
Davis credits Dudley and Gibson for giving him his first solo exhibition, and introducing him to a network of collectors. He is currently preparing for his second solo exhibition called Breathless which is slated to launch at the end of the summer. He also plans to follow up his undergraduate studies of art and film at Wayne State University with a master's degree in film.
Dudley and Gibson understand that their work transcends one cool social event or a few interesting pictures hanging up on a wall — they are contributing to a community that their city and the world is waiting for.
"You have to have a love and a passion to see your community get better," says Gibson. "Whatever you want to do, you have to do it wholeheartedly and you have to do it with a love of people, that's why we do this thing."
#BlackID opens to the public at 7 p.m. on Friday, June 15 at the Carr Center; 1505 Woodward Ave., Detroit; 313-681-5554; thecarrcenter.org; Admission is $10. Through July 15.
Get our top picks for the best events in Detroit every Thursday morning. Sign up for our events newsletter.