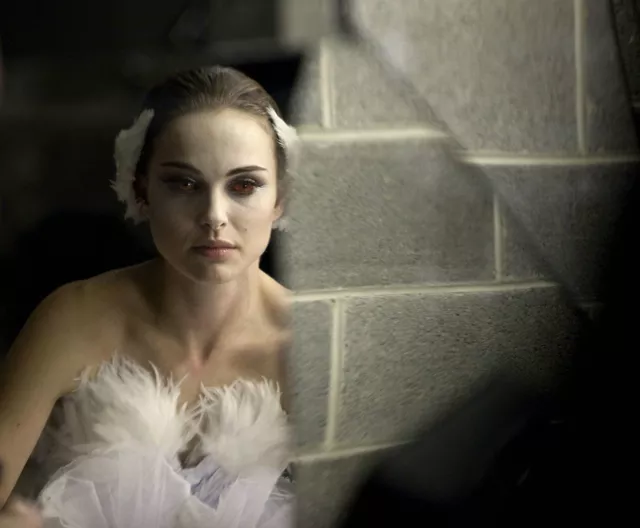 Darren Aronofsky directs his films like grunge anthems: moments of hushed moody lyricism that give way to bombastic visuals, in-your-face emotions, and soundtracks that get cranked all the way up to 11. It's not that he lacks ambition; Aronofsky is nothing if not ambitious. It's that he doesn't seem to understand the power of metaphor and is incapable of subtlety. His films are so literal, so intensely schematic that there's little room for interpretation or reflection. And because his work is so serious-minded, it can't help but come across as pretentious.
Aronofsky's themes are similarly florid, returning to obsessive characters who go to war with their own bodies. Whether it's the math-haunted protagonist in Pi, Hugh Jackman's time-traveling Buddha in The Fountain or Jared Leto and Ellen Burstyn as a drug addicted mother-and-son team in Requiem for a Dream, each of Aronofsky's films centers on a character who sacrifices life, body and soul to a singular pursuit.
It was only in his last movie, The Wrestler, that Aronofsky finally displayed some welcome restraint. Despite an occasional lapse into bloody masochism, he allowed Mickey Rourke's defeated face and unaffected acting style to triumph over his more lurid instincts. Too bad Black Swan, for all its dark, tightly wound passion and aesthetic perfection, is an unfortunate step backward.
Inspired by Michael Powell and Emeric Pressburger's 1948 film, The Red Shoes (which, in turn, was inspired by the Hans Christian Andersen fable), Black Swan focuses on shy and serious Nina Sayers (Natalie Portman), a ballet dancer with extraordinary technical ability, but little passion. Living at home with her controlling stage mother (Barbara Hershey), Nina's life is an obsessive push toward perfection, with little room for ... well ... living. When she's plucked for the lead role in Swan Lake, the company's Svengali director (Vincent Cassel) pressures Nina to embrace her wild side in order to embody the dark sexuality of the Black Swan. This fuels an ever-growing paranoia over things that may or may not be happening to her. Whether it's the manipulations of a rival dancer (Mila Kunis), the resentful star she has replaced (Winona Ryder) or the strange wounds that appear on her body, events in the ballet begin mirror real life and Nina starts to spiral into madness.
Aronofsky directs his story like it's Cronenberg-inspired horror (with a pinch of Polanski's urban iciness to further darken the mood), creating an absurdly solemn study of ambition and self-destruction. It's The Fly meets Showgirls. Which is almost as ridiculous as it sounds. Seduction, self-mutilation, lesbian lust and life-or-death psychodrama blossom like fetid flowers as Aronfsky confuses soap opera for the operatic.
Nothing drives this home more than his oppressive design scheme. Though shot in color, Aronfsky reduces everything — costumes, lighting, mirrored sets — to almost black-and-white visuals to relentlessly reinforce his yin-and-yang concept. (Don't miss the ink blot painting!) It only underlines his incessant need for literalism, dispelling the magic his meticulous attention to aesthetics sometimes achieves.
And still, you can't help but be impressed at times. In fits and starts, Black Swan delivers moments of hallucinatory beauty, sucking audiences into its feverish nightmare fantasy. Much of that is due to Portman, who not only delivers a highly physical presentation but also undergoes an honest-to-God transformation on screen. It's a terrifically understated performance that gives weight to an opaquely written role and counterbalances Aronofsky's drive toward rhapsodic hysteria. What's missing, unfortunately, is emotional connection. Poignancy is sacrificed for heightened drama, so even as we're pulled into poor Nina's sexuality and psychosis, we never truly care what happens to her. This undermines what should've been a tragically theatrical finale.
Black Swan's dance sequences similarly take flight, only to be grounded by too many close-ups (in order to hide the cast's limited dancing skills). Taking a lesson from Scorsese's Raging Bull, Aronofsky brings the camera onstage with the dancers, letting it swoop, lurch and pirouette alongside them. The effect is so primal and breathtaking, it's jarring when yet another close up of straining feet or red-rimmed eyes interrupts.
While it ultimately amounts to little more than a kitschy psychological horror film about a tragically disturbed ballerina, Black Swan further butresses Aronofsky's reputation as a filmmaker with a uniquely off-kilter sense of scope and cinematic bravado. If only his talents matched the far reach of his ambitions.
Showing at the Landmark Main Art Theatre, 118 N. Main St., Royal Oak; 248-263-2111.