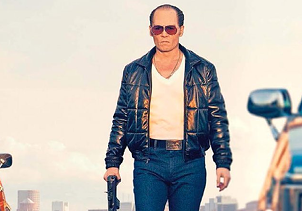 Black Mass / C+
Rated R
Run Time: 124 minutes
In case you've forgotten, Johnny Depp can play more than cartoonish eccentrics. And while Black Mass doesn't do much for the post-Scorsese gangster flick, Depp's performance as Boston crime-lord James "Whitey" Bulger re-establishes him as an actor who can bring gravity and nuance to the screen — even if the film around him doesn't. That said, neither he nor director Scott Cooper (Crazy Heart, Out of the Furnace) can resist the temptation to depict their subject as a sociopathic monster rather than a three-dimensional human being.
Inspired by a 2001 book by two Boston journalists, Cooper's film charts the criminal ascension of a low-rent street thug from Boston's Southie neighborhood with the help of the FBI. Covering Bulger's story from 1975 to the early 1990s, Black Mass awkwardly stages the long and complicated tale of how federal agent John Connolly (Joel Edgerton) recruited his childhood pal into becoming an informant against the Italian mob (constantly referred to, of course, as "Wops and Dagos") and ended up empowering a murderous psychopath. This would've been compelling stuff, had screenwriters Mark Mallouk and Jez Butterworth decided to compare and contrast Whitey's rise to power with his politically ambitious brother Billy (a wonderfully oily Benedict Cumberbatch), who became one of the most powerful state Senators in Massachusetts' history.
Sadly, Cooper and his writers opt for an exposition-laden, this-then-that narrative that relies on criminal depositions to provide a rickety dramatic framework. Cribbing from just about everything Martin Scorsese has ever done in the genre — but without any of the complicated morality, stylistic artistry, or seductive panache — Black Mass is mostly just an episodic series of seen-it-before gangster interactions, FBI posturing, and killings. We never actually witness how Bulger's criminal empire expanded or what he did to make it happen. Instead, Cooper throws us not one but four "surprise" instances of Whitey holding a meeting only to kill this character or that. The Departed, with only cursory nods to Bulger's amazing story, handled the topic with infinitely more drama and verve.
Where Black Mass doesn't skimp is with its cast, though few of its members are given anything memorable to do or say. Kevin Bacon, Adam Scott, David Harbour, and Corey Stoll make for a solid presence as federal agents. Peter Sarsgaard, Jesse Plemons, and Rory Cochrane are effective lowlifes. Dakota Johnson is fine as Whitey's baby mama — despite her losing struggle with the Southie accent (a shortcoming she shares with Depp), and Juno Temple deserves more than yet another hooker role. The most valuable players end up being Edgerton (in a thanklessly written role), Julianne Nicholson as his troubled wife, and, of course, Depp.
Sporting Ray-Ban acetate Aviators, tight-fitting slacks, slicked-back hair, and eerie blue contacts, Depp seethes with hatred and ruthless self-preservation. His presence is undeniably riveting but, at the end of the day, not particularly deep — mostly a watered-down version of Jack Nicholson's Frank Costello. Still, he has a pair of scenes — one involving a recipe for steak, the other an encounter with Connolly 's wife — that'll make your skin crawl.
Black Mass is decently paced and well-acted, enough to sell its mundane narrative, but Cooper doesn't add a damn thing to the gangster drama. You'd be better off watching Joe Berlinger's excellent 2014 documentary, Whitey: United States of America v. James J. Bulger.