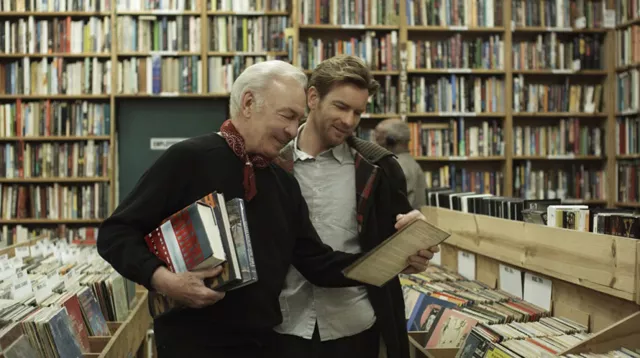 On paper, Beginners'premise reads like the most maudlin sort of weepy indie melodrama; a devoted son attempts to find reasons to live again after caring for his dying father, who has finally come out of the closet at the end of his life. Yet as it plays out, in the delicate, wise and deeply intimate way that only movies can manage, we are treated to a sum more rewarding than any of its flimsy elements. Director Mike Mills (Thumbsucker), a graphic artist with a pixie-like sense of whimsy, has handcrafted the film to match his clever, fanciful sensibility; and by all means it should collapse under its own weight like a house made of spun sugar. It doesn't, so kudos to the extraordinary skill of the cast, and to an inexplicable sprinkling of celluloid magic.
Christopher Plummer is exquisite as Hal, a man finally at peace inside his own skin, just as he's about it leave it. He reveals his late sexual awakening to Oliver (Ewan McGregor) at the tender age of 75, a moment his son keeps wrongly imagining was done in a purple sweater. Hal posts a candid personal ad, starts wearing rainbow kerchiefs and hanging out in clubs where they blast house music, while his slightly disoriented son watches with bemusement and awe. Dad's newfound openness and insistence on being present in the moment is at odds with a past when, as a parent, he was often a remote presence. Oliver spent most of his comfortable, but lonely childhood at his mother's hem, serving as a plaything and emotional outlet for a woman trapped in a gilded cage. She's gone now, and after Hal's hospice staff leaves, Oliver is left with only his parent's boxed belongings and the funny little phrases and affectations he's picked up from them along the way. Out of their long shadow, he's free to pursue a hesitant romance with Anna, a stunning French actress with a trunk full of daddy issues, winningly played by Melanie Laurent, last seen blowing away Nazis in Inglourious Basterds. They meet in the cutest of ways; at a Halloween party where he's dressed as Freud, and she has laryngitis, and can only respond with scribbled notes.
I know what you're thinking: "Gag me with a freaking spoon." In less skilled hands, this would all turn to a gloppy, indigestible mush, and gimmicks like the photo collage history lessons and the adorable Jack Russell that occasionally speaks to McGregor in philosophical subtitles, would flop hard. Yet Beginners earns the right to be a little twee, by creating an intimate, lived-in reality that suggests a life beyond the screen for these gently damaged souls. Plummer gives a majestic, relaxed and award-worthy performance, and McGregor, who continues to pick interesting projects, raises his game considerably to match him.
You won't be surprised to know that this is based on Mills' own biography, as the emotions feel so direct and raw you almost had to be there. Our gradual understanding of these people gives rich context. In the end, we appreciate that thirtysomething's Oliver and Anna can engage in a tentative, quirky and infuriatingly post-mod urban romance only because their parents lived through lives of quiet, suburban TV dinner desperation. Living only starts, it seems, when we really accept its finality. —Corey Hall