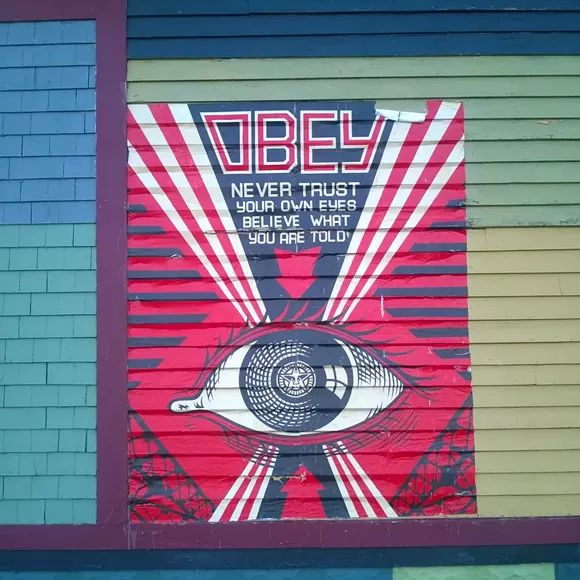 Even though street artist Shepard Fairey has a well-documented history with vandalism — as well as making blunt statements to the local media announcing his intentions to create unauthorized artwork in Detroit — prosecutors on Tuesday fell short of providing direct evidence linking him to versions of his iconic "Obey Giant" imagery that appeared around the city earlier this year.
Nevertheless, 36th District Court Judge Kenneth King ruled that Fairey will proceed to trial on two counts of malicious destruction of property causing damage between $1,000 and $20,000, in addition to a new charge of malicious destruction of property in excess of $20,000. The charges carry a possible prison sentence of up to 10 years.
The crux of the prosecution's evidence against Fairey was a YouTube video in which the Los Angeles-based artist shows how he creates his wheat pasted artwork, nearly identical to the art found in Detroit.
In the video, Fairey also discusses his philosophy of bringing art to people by any means necessary, the meaning of his "Obey Giant" imagery, and tips for how to avoid police when creating illegal art. Also brought up was a May Free Press article in which Fairey said, "I still do stuff on the street without permission. I'll be doing stuff on the street when I'm in Detroit."
Fairey's attorney Bradley Friedman maintained that his client did not create the unauthorized artwork. And even if Fairey did, he argued, it would not meet the statute's requirement for "malicious intent" — causing the court to debate at length the meaning of the word "destruction."
"In Mr. Fairey's mind, implicit in that video, is that he's beautifying with his artwork," Friedman said. "He's not saying that he's putting any of his artwork out to injure or destroy or hurt anyone."
He added: "I assert to the court that it wasn't a message of destruction or hate or trying to render a property useless. It's the exact opposite. It was a message of trying to improve it, of trying to beautify it, to make it better in this person's mind — and that's what's imperative in this statute."
"Isn't that 'better' relative?" King countered. "That's 'better' in his opinion." King also noted that according to the video, Fairey seemed to regard what he was doing as a crime.
Assistant prosecutor Doug Baker asserted that Fairey knew what he was doing was wrong. "He didn't do it by mistake, he didn't think he had permission. He knew he didn't," he said. "That's part of his brand. He comes into the city, and plays to that fanbase of his so he can be ever greater and have evermore following. It doesn'tmatter to him how he inconveniences the city, the messages he sends to other would-be taggers that come into this city on a daily basis and deface property. None of that matters to him. It's all about Shepard Fairey."
A witness from Detroit's General Services Dept. said damages were assessed by tallying up the costs of removing graffiti with a product called "Elephant Snot," hiring vendors for restoration work, use of equipment, closing lanes for crews, and administrative fees. She said that in some instances crews removed nearby graffiti as well — like the spray painted message "Revolutionaries don't work for Gilbert" that appeared next to one of the "Obey Giant" wheat pastes spotted along I-75 in Detroit. The witness also noted that it wasn't building owners who contacted the city with complaints of graffiti — it was the city's graffiti cleanup crews that spotted them.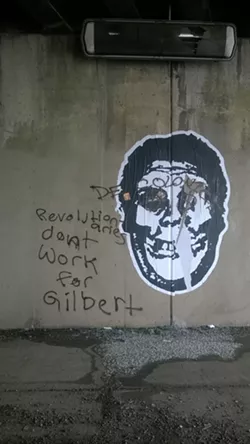 Fairey was brought to Detroit in May to paint an authorized mural on Dan Gilbert's One Campus Martius building — his largest mural to date. However, Friedman objected to the use of the word "commission" in describing the authorized mural. In a recent interview with Animal New York, Fairey said he spent his "own money" on the project.
Despite the lack of direct evidence that Fairey created the wheat pastes, King said the YouTube video and the statements to the Free Press amounted to "one big fat admission."
"Although the artwork may be beautiful, at least to him, the point of the matter is he didn't have permission to tag these buildings," King said.
In his closing statement, the judge said he didn't know "if we're talking about arrogance here or pure stupidity." He then addressed Fairey directly, saying, "Sir, you may have a lot of talent, but you can't go around doing things without permission. You can't put things on people's property without their permission."
If Fairey did not create the artwork in question, it wouldn't be the only time in recent memory a famous graffiti artist was imitated in Detroit — or at least was claimed to be imitated.
In 2010, paintings by the mysterious street artist Banksy appeared in metro Detroit, one of which was removed from the Packard Plant and placed in the 555 Gallery. But when the gallery announced plans to sell the painting last year, local artists Matthew Naimi and Carl Oxley claimed they were the ones who created it.
Fairey is due back in court on Sept. 15. Watch the video cited in the hearing below: