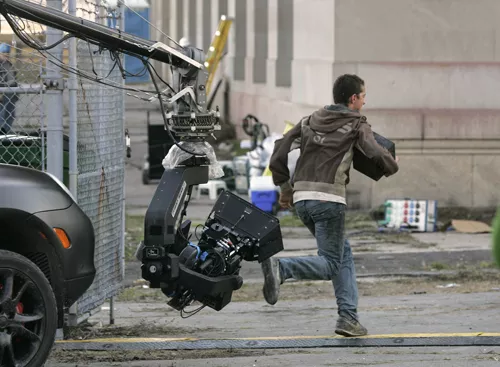 Around Detroit, MEGATRON means one thing, and that's the Lions all-time leading receiver Calvin Johnson and his impending retirement.
*pours liquor to the pavement, sheds single tear streaming down cheek akin to a Native American watching a white man litter in South Dakota*
How we've had the greatest of all time running back AND wide receiver yet garnered only 1 playoff win in the last 25 years is for another article, though.
Transformers, otherwise known as the Transformers Cinematic Universe, if your nerd level is
over 9,000
, is returning to Detroit this summer to film the fifth installment in the franchise, Paramount Pictures and Michigan officials recently announced.
We should feel
way up and blessed
, because when Rick Snyder wasn't busy
poisoning Flint's water hole
, he was busy removing the previous administrations' incentives and tax breaks for studios to film in the dirty glove, which pumped billions into our shaken economy.
Transformers 5 alone is projected to bring in an estimated $80 million in area spending and 230 full-time jobs for the duration of filming. They also need 700 extras.
That's where you come in
.
Come try out for Transformers! You aren't just trying out for the ninth highest-grossing film series of all time. You're trying out to watch Michael Bay blow shit up FIRSTHAND. You're trying out to lock eyes with Shia Lebeouf and determine whether he's as batshit crazy as he seems.
You're trying out to tell
Marky Mark
Mark Wahlberg to fuck off to his face, even though secretly you can't wait to try
Wahlburgers
.
So chase your dreams, get your
15 minutes of fame
, as that one guy in the far background, running away from an autobot, and put "actor" in your Tinder bio. She'll swipe right, for sure.
Email your resume and pleas for fame to
[email protected]