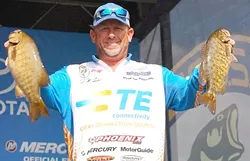 Since joining the cast of MT, I've dabbled in everything Tigers — and a little bit of NCAA football. Now, with the NFL season openers last week, the fall sports season is officially upon us.
This week I'll be writing about something so seemingly relevant that it appears irrelevant: bass fishing.
Two weeks ago, on the shores of Detroit, the B.A.S.S. (Bass Anglers Sports Society) Plano Elite Championship took place Aug. 22-25. For those of you wondering what exactly it is, I hear ya.
I'd never heard of the B.A.S.S., and to be honest, would've expected a name more along the lines of the N.B.F.A. (National Bass Fishing Association). Apparently, the Plano Elite Championship is the World Series of bass fishing, so … kind of a big deal.
I got the chance to talk to J. Todd Tucker, a seasoned veteran in the Bassmaster Elite Series, about his time spent in Detroit. After spending 12 days fishing competitively (he finished 12th in the event) and recreationally, Tucker had a lot to say about Detroit's fishing game and the city in general.
Though the event took place everywhere from Lake St. Clair to Lake Erie, Lake St. Clair was the main attraction — it was Bassmaster magazine's top-ranked lake in the country in 2012. To fishing agnostics (present company included), Lake St. Clair is much more than meets the eye.
"You've got three different species of bass that you can catch there anytime," Tucker said. "In the spring, summer and fall, during the season it's just spectacular. You can't go anywhere else in the country and experience what you experience on that lake."
Lake St. Clair has a very stable and hungry smallmouth bass and largemouth bass population. The fish don't just bite, but they bite in large amounts — when Tucker took out some of his sponsor's clients socially, he said they'd catch between 30 and 40 fish a day on the lake.
Talking about the lake, Tucker passionately explained that the lake is "a great resource that you have. … People need to know about it and take care of it." That's what this story's all about. There are so many negative things being written about Detroit right now — some of them, justly so — something like this is barely even a blip on the radar.
I mean, I'm always hearing about Detroit being the most dangerous city in America. Well, this means that Detroit is No. 1 in something else too; something that most people probably didn't even know.
How many people drive by Lake St. Clair on their way to the city and probably think nothing of it? I know I did — did being the key word. Not to say the fishing industry is going to be a cash cow that will abruptly and dramatically save the day; I think we can agree that it's not, but we can also agree there are many Detroit residents right now who are a little down in the dumps.
After talking with Tucker, who lives and mostly fishes in the South, he seemed very much in tune with the city's financial struggles. Sure, he isn't living in these unfortunate circumstances day in and day out, but he spent enough time here to see what's going on. He offered an insight into the situation that only a professional bass fisherman would have.
"I think the best thing to do, is pick up a fishing pole and take your kid fishing," he said. "One of the best things you can do to get things off your mind and not worry about stuff is just go out and relax and actually experience what we (bass fishermen) experience every day."
If everybody already knew that Lake St. Clair was this apparent fishing mecca, then pardon my ignorance. But if you didn't, think about bringing your fishing pole the next time you're downtown. I mean, how often can you say that you've fished in the waters of the nation's best lake while in the nation's most dangerous city?
Michael Laurila writes about sports for Metro Times. Send comments to [email protected]