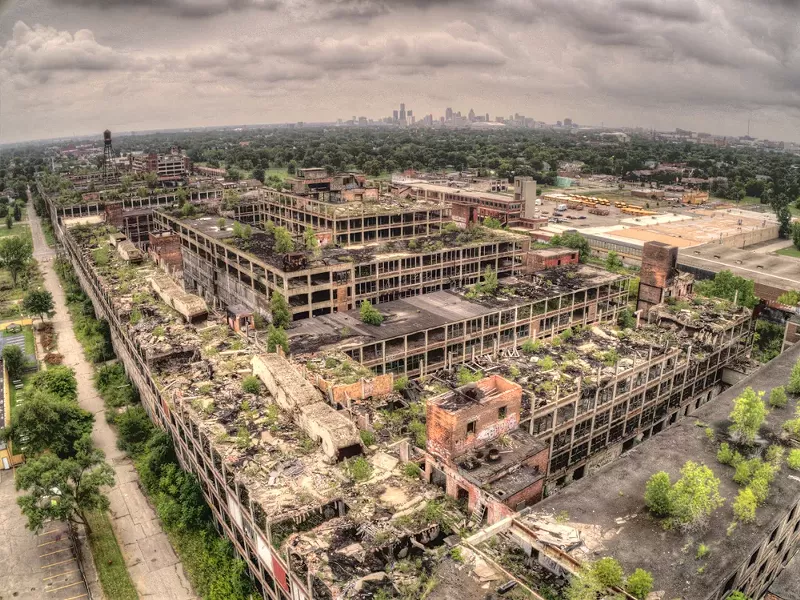 If there's one thing that's true about people from Detroit, its that we're very protective of our city. Sure, we'll moan and groan about the lack of public transit, the crazy high car insurance, and the fact that the sky seems to be grey for like 5 months out of the year — but the second someone outside of Detroit tries to talk shit about our city, you better believe the claws will come out.
At least that's how we felt when the
notoriously toxic
and
frequently misogynistic
low-brow clickbait website Barstool Sports decided to take a cheap shot at our fair city.
On Tuesday, writer Gay Pat, Barstool Sports' seemingly confused token "LGBTQ Culture" writer wrote a short hit-piece about Detroit based on drone footage of the Packard Plant – a property that is currently being
rehabbed by Spanish-born developer Fernando Palazuelo
. The timeliness of Gay Pat's post is uncanny, written just a day before
Packard Plant's pedestrian bridge collapsed
across Grand Boulevard.
In the article
"I genuinely don't understand how anyone can choose to live in the city of Detroit after seeing this drone footage"
(yes, that's the actual headline), Gay Pat calls Detroit "war-torn Syria," "America's first third world country," and recounts other tired diatribes frequently flung by sheltered white dudes who have never set foot inside the 313.
But this is nothing new. In Detroit, we're used to the insults. We're used to the jokes mocking our city's political and economic pasts. And we're used to being the underdogs.
We know that Detroit may not be perfect. It may not have the ritzy skyline of New York City, the palm trees of Los Angeles, or the booming tech industry of San Francisco — but what it does have is a community. And that's why we live here.
It's the community you feel when you walk down the street and pass a stranger who says, "Good morning," or "Have a nice day," or the big city-small town feel of making a new acquaintance and realizing you share mutual friends. It's the candid conversation you have with the person next to you waiting for the Qline as you share a moment musing about life's oddities. And it's the collective feeling of both loss and surging pride that we felt when the Queen of Soul died.
We don't expect everyone to understand why we live in Detroit. Hell, on a bad day you might even catch us asking ourselves that same question. But if you've spent any time in the city recently, you understand that right now there's a feeling of immense pride as the city finds itself injected with new energy. It's energy palpable in the face of residents who see the doors to Michigan Central Station opened for the first time in decades, or lights emerging from the Book Tower. Or, something as simple as a "Coming Soon" sign, hanging in the window of a building that is finally getting a second chance at life.
We know that "New Detroit" offers its own variety of problems and obstacles that we'll have to tackle in the years to come. But for now, we're happy knowing that the picture painted by a New York blogger passing judgment from drone footage of a measly 40 acres is an inaccurate one.
Editor's note: The story was updated to include information about the collapse of the Packard Plant bridge, which occurred hours after publishing.
Stay on top of Detroit news and views. Sign up for our weekly issue newsletter delivered each Wednesday.