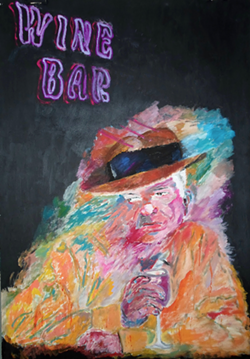 As a bartender, you see a lot of people in various states of joy, despair, and disrepair. As an artist, you might see things a bit differently.
"Alcoholics Anonymous" is a collection of impressionist-style portraits and illustrations by renowned Detroit artist Thelonius Bone, which captures the feeling of "wanting to be unknown and unseen." The exhibition, which had a successful run at Playground Detroit last year, will be on display once again, this time with selected works from the series that were not featured during its premiere.
Blurred like intoxicated vision, "Alcoholics Anonymous" pairs portraiture with boozy iconography and AA adages, resulting in what feels like a collective — and emotional — last-last call. The show will also feature coffee and donuts à la AA, a reggae DJ set by Hello Records' Wade Kergan, and an after-show dance party with the Shitty Club DJs.

Alcoholics Anonymous Redux begins at 7 p.m. on Saturday, April 20 at UFO Factory; 2110 Trumbull St., Detroit; facebook.com/ufofactorydetroit. Event is free.

Get our top picks for the best events in Detroit every Thursday morning. Sign up for our events newsletter.