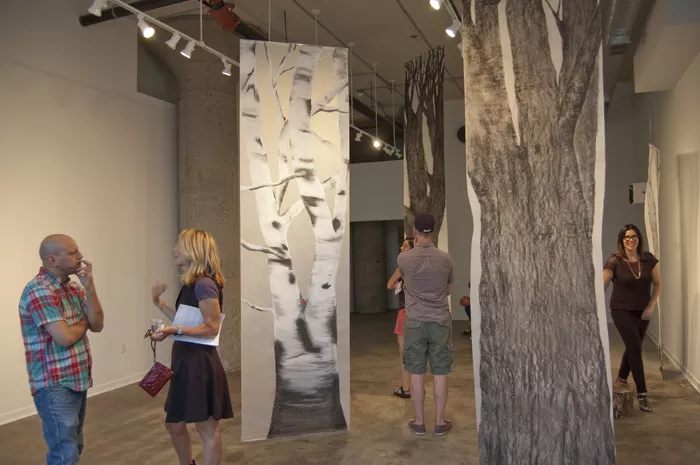 For her latest solo show, A Heightened State, artist Melanie Manos has built a strange forest inside the white walls of the Re:View Contemporary Gallery.
In many ways, the show seems to be about the tension between the natural world and the mechanical world. "I thought if I do a solo show, especially in this space, I have to respond to those columns," Manos says, indicating the large cement pillars inside Re:View. "I can't just put things on the wall and ignore [the space]; that's just how I think."
Manos used the space's tall ceilings to install large black-and-white charcoal drawings of trees, drawn on vellum. The large drawings hang from the ceiling, at once echoing and contrasting with the shape of the pillars and creating a sense of space. A closer inspection reveals miniature photographs of Manos herself in a climbing pose collaged into the branches of the trees, with the mix of media creating further tension between the organic, hand-drawn trees and the digital photographs of Manos.
The idea came earlier this year, when Manos had a residency at the MacDowell Colony in New Hampshire, which was surrounded by monumental pine trees. An interdisciplinary artist, Manos shot video of the trees and incorporated it into this show, projecting it on a wall toward the back of the gallery. Audio of the wind blowing the trees' branches plays, and Manos created further contrast in the space by bringing in sanded-down stumps for gallery patrons to sit on as they watch the video. Manos even stuck faux mushrooms on the base of one of the columns as a little Easter Egg of sorts for sharp-eyed gallery visitors to stumble upon.
Manos says creating such large drawings, especially in her lower-ceilinged Ann Arbor studio, posed its own set of challenges, but it also allowed her to get intimate with her subject matter. "I had to work in sections, and the rest of it would be rolled up," she says. "I drew them from the bottom up. I was thinking, how does a tree grow?"
Part of her idea was playing with scale in her exhibition, Manos says, to create a humbling experience. "We think of ourselves as humans as the conquerors of the world," she says. "I'm trying to say we're small. I just want to remind people of that." When we ask why they're photos of herself, Manos seemingly derails her whole train of thought with a deadpan, one word joke: "megalomaniac."
"I like to have an undercurrent of a sense of absurdity in my work, a sense of humor," she explains. "I also have a dance background, so I like to do things with my body."'
A Heightened State runs at Re:View Contemporary Gallery until Aug. 9. Gallery hours are Wednesday through Saturday, 11 a.m. to 6 p.m. An artist talk and exhibit tour is scheduled for 4 to 6 p.m. Saturday July 26, at 444 W. Willis St., Units 111 and 112, Detroit; 313-833-9000; reviewcontemporary.com.