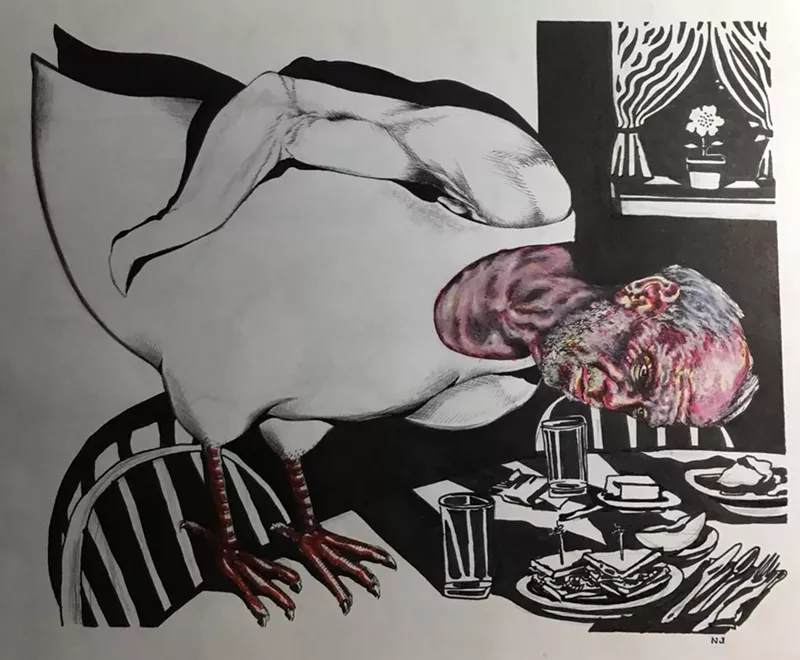 Nathan Jerde took the roads less traveled and it actually fucking worked.

A self-proclaimed "art school dropout," Jerde left his small Illinois town for Chicago where he found himself drumming for the indie band the Ponys.

"The goal was to become a commercial artist, and that never really panned out," Jerde says. "I was sort of young and anxious to be in a band, so that's what took me to Chicago. The band got popular and we stayed on tour for about ten years."

Jerde, 43, will make his solo-show debut at Grey Area in Southwest Detroit on Friday, Nov. 23. The show, which Jerde says is purposefully left nameless to allow its viewers an opportunity to form their own narrative, is a retrospective of the last 6 years and features 20 illustrations as well as some prints.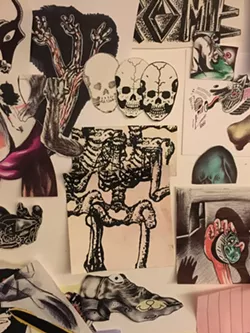 "I primarily use pen and ink. A lot of stuff goes in there," he says. "I have a tendency to overwork things. There's the compulsion, but there's also heavy technique."
While Jerde cites punk show flyers and his early years as a skateboarder and
Thrasher
magazine art as underlying stylistic inspirations, as evident in his crosshatching and skull-heavy imagery, he is also drawn to people. Specifically, his friend's father
— a paranoid schizophrenic who is represented in
one of Jerde's most personal pieces unofficially titled "Cyrus."


"He's a great guy and was really sweet to us when we were kids. His entire family is inspiring to me," he says." Once he got sick, he would take this wooden step stool and rest it on his knees sitting down at his breakfast table he thought he was being exposed to some sort of radiation from the refrigerator."
While Jerde is most comfortable working on a smaller scale, ("I'm excited when I finish something that is 11-by-17," he says) he admits he would like to challenge himself to break free of his anxiety surrounding size, among other things.
"I would like to do more shows. If I was commissioned on something big, I would love that. But I don't have big plans," he laughs. "I'm still pretty green."
Nathan Jerde's solo show will debut at 7 p.m. on Friday, Nov. 23 at Grey Area; 4200 Vernor Hwy., Detroit; Event is free.
Get our top picks for the best events in Detroit every Thursday morning. Sign up for our events newsletter.