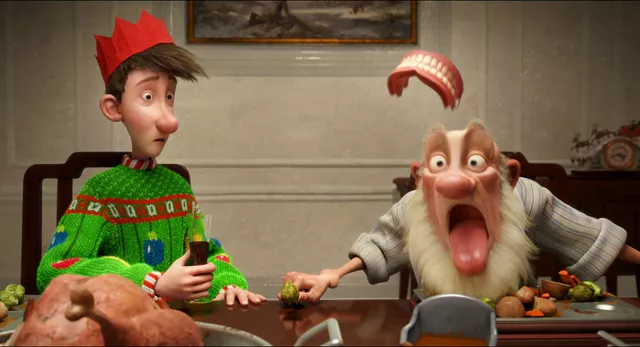 Arthur Christmas | B 
The North Pole as a vast, industrialized bureaucracy is a popular theme at the movies, as seen in Fred Claus, The Polar Express, The Santa Clause and others. Heck, we've even seen an Easter variant this year with Hop. 
Yet Arthur Christmas takes it to extremes, converting Santa's workshop into a shiny, buzzing nerve center of brisk efficiency; thousands of rigorously disciplined elves attending to their tasks at lightning speed. The command center's head is Santa's eldest son, Steve (Hugh Laurie), who runs the operation with paramilitary precision, if not an excess of joy. The old ways have been brushed aside, in favor of smart phones, GPS and an immense starship-sized "sleigh" called the S-1, which whisks around the globe at ultrasonic speeds. The machine runs so smoothly that Santa himself (Jim Broadbent) is essentially a figurehead, one who dodders around until showtime, then performs the job and collects the accolades and cookies. 
In fact, this jolly fellow is so asleep at the wheel he scarcely notices when a single wrapped bicycle, intended for a little girl in Cornwall, England, goes undelivered. Steve is too prideful to admit a failure, and tries to brush the gaffe under the rug, but that won't do for his earnest, slightly dopey younger brother Arthur (James McAvoy), who works in the letters department, and still believes that children are more than numbers on a grid. Alongside his still feisty Grandsanta (Bill Nighy), a former Claus himself, and a commando gift-wrapping elf (Ashley Jensen), Arthur pulls the reindeer out of mothballs, and sets out to makes sure the precious package makes it under the right tree. 
This delightful bit of holiday cheer has been delivered by the fine folks at Aardman, which specializes in such claymation wonders as Chicken Run, and the Wallace & Gromit films, handling the shift to CGI with aplomb. There is distinctly British sensibility at play, not just from the voice actors, but from the humor, which slips in sly wordplay amid the slapstick set pieces. Indeed, first-time director-writer Sarah Smith keeps the pace so brisk, we're afraid it will all whiz by without a breath. But Arthur Christmas does pause briefly, and delivers on the all-too-familiar yuletide theme that the season's spirit is about sharing. Families weary of studio kiddie drek will find this sprightly film a surprising little stocking stuffer