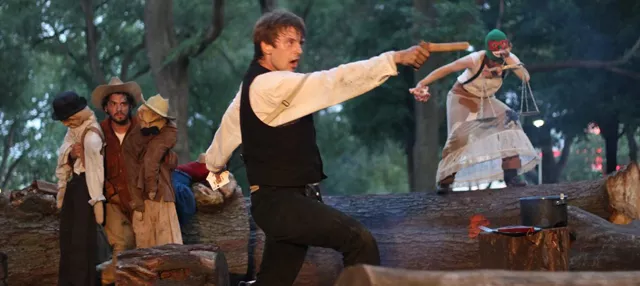 Philip Lauri will take part in the opening MicroFest panel discussion that begins at 7 p.m. on Aug. 17, at Art Effect Gallery, 1420 E. Fisher Fwy., Detroit; 313-734-5555. For a full schedule of events, see the online version of this story; a pass to all events is $35.
What exactly is the relationship between art and community? MicroFest USA, a think tank hosted by the Network of Ensemble Theaters, seeks to explore this question by fostering discussion about art's impact on Detroit. The three-day festival includes panel discussions and neighborhood arts tours that are meant to engage creative members of the community.
"I see this as a bridge point between artists, urban planners and community organizers," says the fest's event coordinator, Ashley Sparks. "MicroFest is contributing to nationally making the case that the arts are as vital as a hospital to a healthy community."
Philip Lauri is the founder of Detroit Lives!, a small creative agency that specializes in film production and branding for a growing client base — but also takes on local projects, including documentary films and public art. Lauri will take part in the opening MicroFest panel discussion Friday, Aug. 17, at Art Effect Gallery.
"Traditionally, art and artists are seen as part of economic development — the idea that the starving artists move in, they make a place cool, the rent goes up, and then the artists are kind of pushed out," Lauri says. "[The panel] is about how we rethink that traditional, predetermined path and think about art and culture as a different kind of revitalization tool."
Art as a means for revitalization is the primary premise of the MicroFest conversation, and Lauri believes that repositioning artists in Detroit communities can be a strong part of rebuilding the city.
"I think people forget that art, culture and design all play an astronomical force in our daily lives. Everything has to be designed, envisioned, created, produced and manufactured, and those are all components of the arts. It's interesting to think about the larger role that the arts play in a city. Starting with this conversation is an important part."
MicroFest USA continues through Aug. 19 at various locations around Detroit and includes workshops, as well as dance, music and theater productions. On Saturday, participants choose from three different tours to examine the impact of art in the context of local neighborhoods, such issues as the justice system and incarceration, or community organizations. A town hall meeting on Sunday is a chance for an open discussion on various elements of community cultural development.
Kathleen Conley is a Metro Times editorial intern. Send comments to [email protected]
Micro Fest Detroit
Friday, Aug. 17, 2012
5 p.m. — MicroFest Bus departs WSU's Ghafari Hall, 695 Williams Mall, Detroit, MI; 313-577-9700
Dinner break in Eastern Market (tinyurl.com/eateasternmarket)
6:30 p.m. ¾ Welcome and opening remarks at Art Effect Gallery, 1420 E. Fisher Fwy., Detroit; 313-734-5555; arteffectgallery.com
7 p.m. — Rogue HAA Panel: Art and Development in Detroit with Philip Lauri (Detroit Lives!), Mike Han (Street Culture Mash), Jela Ellefson (Eastern Market) and Oya Amakisi (U.S. Social Forum) at Art Effect Gallery.
9 p.m. — Performances from Monica Blaire, Hardcore Detroit, Tawana "Homeycomb" Petty, Will See, Invincible and DJ Stacey Hotwaxx Hale at Art Effect Gallery.
11 p.m. — MicroFest Bus returns to Ghafari Hall.
Saturday, Aug. 18, 2012
Guests may attend one event for free – more than that, please register.
8:45 a.m. — MicroFest Bus arrives at Ghafari Hall
9 a.m. MicroFest Bus departs
Please note the bus will not return to Ghafari Hall until 10 p.m.
9:30 a.m.-12:30 p.m. – Community Tour Tracks (three options)
Track A — Neighborhood Impact: Southwest Detroit
The Matrix Theatre will perform their latest play, Detroit Dreaming, about the future of Detroit. The Alley Project will spotlight a hands-on sculpture project made of recycled materials, celebrating the collaboration of artists, neighbors, and youth in the development of people and place. Tour Guide: Lisa Luevanos. Facilitator: Michael Rohd
Track B — The Urban Network: Art Impacting the Justice System
Performance and panel discussion about artists working in the prisons — with the formerly incarcerated, families of the incarcerated, lawyers and judges. 4TheatrSake presents Cell/Ships, a dance-theater piece based on interviews with people who have been incarcerated. Panel: Yusef Shakur, Buzz Alexander, and Hasan Davis. Facilitators: Sari Adelson, Dream Hampton.
Track C — College for Creative Studies: Art Impacting Redevelopment.
Tour of North End artworks — experience public art projects that have supported economic development, community-building, and health and well-being in Detroit. Bus tour led by Mikel Bresee and Vince Carducci.
12:30-1:30 p.m. Lunch (bring cash)
2-3:30 p.m. — Art Impacting Youth Workshops
Detroit Summer Workshop: "Come with a Question, Leave with a Mural"
Youth-led workshop on identifying a community issue, generating an issue-specific graphic, and screen-printing the graphic.
Mosaic Youth Theatre of Detroit: In Action
Workshop will provide tools for creating an original performance.
4-5 p.m. — Reflections and National Context
Theater director, choreographer, educator and dialogue facilitator, Daniel Banks, facilitates a session to share responses and reflections about the neighborhood tracks and workshops.
5:30-7 p.m. – Detroit Soup, 2051 Rosa Parks Blvd, Detroit; detroitsoup.com
Soup dinner and case study of Detroit SOUP, a micro-granting program. Three micro-grants will be distributed.
Dinner/donation is included in registration fee. Otherwise, dinner donation will be $10, payable in cash at the door.
7:30 p.m. — The Hinterlands and the Powerhouse Project 3346 Lawley St., Detroit; thehinterlandsensemble.org, www.powerhouseproject.com
Site-specific vaudeville-inspired performance touring Detroit-Hamtramck's Banglatown neighborhood and featuring the work of Power House Productions, the Hinterlands, Haleem Rasul of Hardcore Detroit, Tzarinas of the Plane, Jon Brumit and the Bangla School of Music.
9:30 p.m. — (optional) African World Festival Charles Wright Museum, 315 E. Warren Ave., Detroit; 313-494-5800; thewright.org
The 30th anniversary of one of the largest free community festivals in Detroit, with music, food and vendors.
Sunday Aug. 19, 2012
All Sunday events to take place at WSU's Hillberry Theatre, 4743 Cass Ave., Detroit; 313- 577-2972
Co-sponsored by the Maggie Allesee Department of Theatre and Dance
8:30-9 a.m. — Breakfast provided by El Guapo Grill (included in cost of full festival pass)
9-10 a.m. — Invincible with Complex Movements
An interactive performance and dialogue about the connections between complex science and social movements via hip-hop and multimedia installation-based performance.
10-10:30 a.m. — Brunch at the Hillberry Theatre.
10:30 a.m.-noon — Town Hall Discussion "How do you know the work is having impact?"
Participatory discussion focused on reflections of impact and articulating the various elements of community cultural development.
noon-12:30 p.m. — Closing
12:30 p.m. — MicroFest bus departs Hillberry Theatre, returning to WSU's Ghafari Hall (695 Williams Mall Detroit, MI; 313-577-9700)
1 p.m. — MicroFest bus arrives at Ghafari Hall to take registrants to Detroit Metro Airport