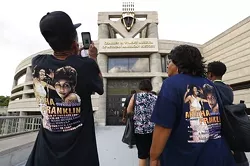 R-E-S-P-E-C-T is still holding strong at the Detroit museum that hosted Aretha Franklin's public visitations after her death in August.
A new exhibit dedicated to the life and legacy of Aretha Franklin opens to the public today at the Charles H. Wright Museum of African American History.
Billed as "Think: A Tribute to the Queen of Soul," the exhibit chronicles Franklin's life as a musician, civil rights activist, fashion icon, and Detroit native. Think is a prelude for a long-term exhibit that will be dedicated to the Queen of Soul, which the Franklin estate hopes to open in 2020.
"My aunt used to always talk about having a Franklin family museum," Franklin's niece, Sabrina Owens, told
The Associated Press
. "That's not on the immediate horizon, but I thought this would be a good start to it."
The exhibit at the Wright features the wardrobe, photographs, and videos from throughout Franklin's career, including an original 1956 vinyl copy of "Never Grow Old," the first-ever recording of "Aretha Franklin, Daughter of Rev. C.L. Franklin." Visitors also enter the exhibit to a video monitor that plays a clip of Franklin singing "Think" in the film "The Blues Brothers."
The exhibit includes the red shoes and a replica of the red dress that Franklin wore at her visitation period at the Wright. More than 31,000 people visited the Wright to see Franklin during the Aug. 29-30 visitation period.
The museum will rotate items in and out at the exhibit during its four-month run, with part of the exhibit eventually joining a larger collection that will travel the state, according to George Hamilton, the museum's chief operating officer.
"This is an opportunity for people to come back and engage, reminisce and reflect," Wright museum board member Kelly Major Green told the
Detroit Free Press
.
Think will exhibit at the Wright through Martin Luther King Jr. Day, on January 21, 2019.
Lucas Maiman is a Metro Times fall editorial intern.

Stay on top of Detroit news and views. Sign up for our weekly issue newsletter delivered each Wednesday.