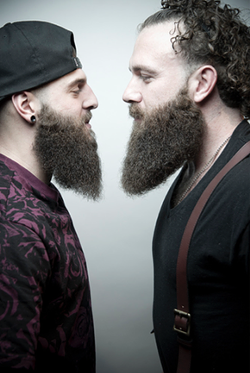 Last year a hairy competition made its way to Detroit. It was called the
Circus of Whiskers
and more than 100 competitors (men and women!) from around the globe put their beards in the ring, hoping their facial hair would win top honors.
Now, the Circus of Whiskers is back and the charity fundraiser is hoping to attract an even larger number of whisker-bound men and whiskerinas who will raise dough for an animal rescue called D.A.W.G.
The whole thing takes place at Tangent Gallery on Nov. 5. starting at 7 p.m. It's $15 to attend, but proceeds go to that aforementioned charity. D.A.W.G. is a no-kill animal shelter that ensures every pet in its care will live with a foster parent until a forever home is secured.
But, back to the Circus of Whiskers.
Competitors can sign up for 13 different categories including best natural mustache, styled mustache, partial beard, and mutton chops, among others. Two categories exist just for the ladies: best fake beard realistic and best fake beard creative. How's that for equality?
Your $15 will also get you performances by burlesque beauties like Holly Hock, Magenta DeMure, and Sophia Stardust, plus an intermission performance by Doppleganger Circus Sideshow and Pretties for Pitties. There will also be 13 different vendors, so you can buy stuff.
For more info click
here
.