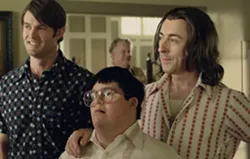 Any Day Now | B
Alan Cumming is one of those actors who's always made a good impression but has never really stood out from the crowd. Whether it's been his choice of projects (he's played everything from Nightcrawler in X-Men 2 to a Spy Kids villain — with lots of television before and after) or a lack of meaty dramatic opportunities to shine, the Scottish actor has been more of a dependable utility player than a memorable lead. To most audiences, he's just the guy who plays Eli on ABC's The Good Wife.
Any Day Now is clearly meant to be Cumming's moment in the spotlight. In it he plays New York-transplant Rudy Donatello, a middle-aged drag queen who is struggling to make it in 1970s L.A. When his junkie neighbor abandons her mentally challenged teenage son Marco (Isaac Leyva), the jaded yet flamboyant Rudy sees a little bit of himself in the lonely and discarded boy. Teamed with his new flame, a closeted city attorney named Paul (Garrett Dillahunt), Rudy decides to take Marco in after his mother is sent to prison. Together, the three form a strong bond, which not only provides a stable environment for the boy but gives each the family they didn't know they needed. Unfortunately, the men's scheme to adopt Marco brings in both the authorities and the full weight of '70s homophobia. Get your hankies ready for the outcome.
Director Travis Fine and veteran TV writer George Arthur Bloom do a solid job of keeping their eye on the dramatic ball by not hammering on the obvious social messaging and instead focusing on the characters and story at hand. There's plenty of humor, the emotions build slowly, and, smartly, Rudy is depicted as an impulsive and flawed yet sincere man who often acts against his own best interests. Despite his dodgy Queens accent, Cummings is a charismatic and appealing lead.
The rest of Fine's cast is equally strong, selling a story that delivers few real surprises. Dillahunt, another TV regular, makes a strong impression, and TV veteran Frances Fisher is terrific as a judge who wants what's best for Marco but is limited by her prejudices. I probably could have done with one fewer lip-synced musical rendition, but Cumming's version of "Love Don't Live Here Anymore" hits hard and sure, and his show-stopping finale (I won't give it away) leaves a painful lump in your throat.
More than just a strong addition to the LGBT canon, Any Day Now is a sensitive and timely indie that deserves a wider audience. Catch it before it disappears from theaters.