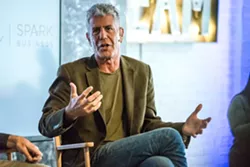 If you lived in Detroit in the 1950s and 1960s, Anthony Bourdain wants to take a look at your archives.
The television personality is producing a four-part documentary about Detroit for CNN. To help with the project, the producers are seeking films and photographs from the era.
The call for entries is looking for home movies, including life in the city and suburbs, Motown performances, protests, views of Hudson's, the Big Three's assembly lines, and more.
In exchange, the producers say they will provide high resolution scans or footage for your personal use. Anyone who provides material that makes the final cut will receive compensation a credit. In addition, they say they will donate the materials to local institutions for posterity.
More information is available
here
.

The doc is tentatively titled
Detroit 1963: Once in a Great City
, based a similarly titled book by David Maraniss. According to the producers, the series "will take viewers back to a time in America when people believed in the power and goodness of big corporations, had high hopes for racial parity, and looked to institutions like unions and the government to solve their problems."