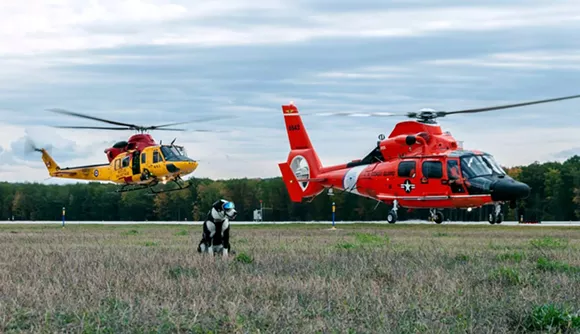 Piper the Border Collie is making headlines again and not just for his awesome day job. We previously wrote about the puptastic Piper and his airport duties that involve chasing wildlife off of the Cherry Capital Airport's runways.

As of today, he's not just a dog with a pretty spiffy job, he's also this year's U.S. Coast Guard Shutter Shootout winner.
The annual photo contest required entries that showcased Coast Guard men and women, and in this case, animals, training and performing their daily tasks, giving a little insight on what it's like to be a part of the U.S. Coast Guard. The contest selected finalists based on Facebook photo "likes."
Piper was officially named the winner of the 2016 Shutter Shootout today via the U.S. Coast Guard's Facebook.
The 7-year old pooch represented the Great Lakes U.S. Coast Guard, who submitted the winning photo titled "Wildlife Control."
In response to the win, the Cherry Capital Airport K-9 Team stated via Facebook:


Much wow, we won! What a complete honor to be named the winner of the 2016 U.S. Coast Guard Shutter Shootout! We are incredibly fortunate to have such a fantastic relationship with U.S. Coast Guard Great Lakes and specifically U.S. Coast Guard Air Station Traverse City. We were stoked to meet members of the Royal Canadian Air Force and, in turn, get this incredible shot.
Just add this to Piper's growing resume. Hope he doesn't let the fame get to his head.