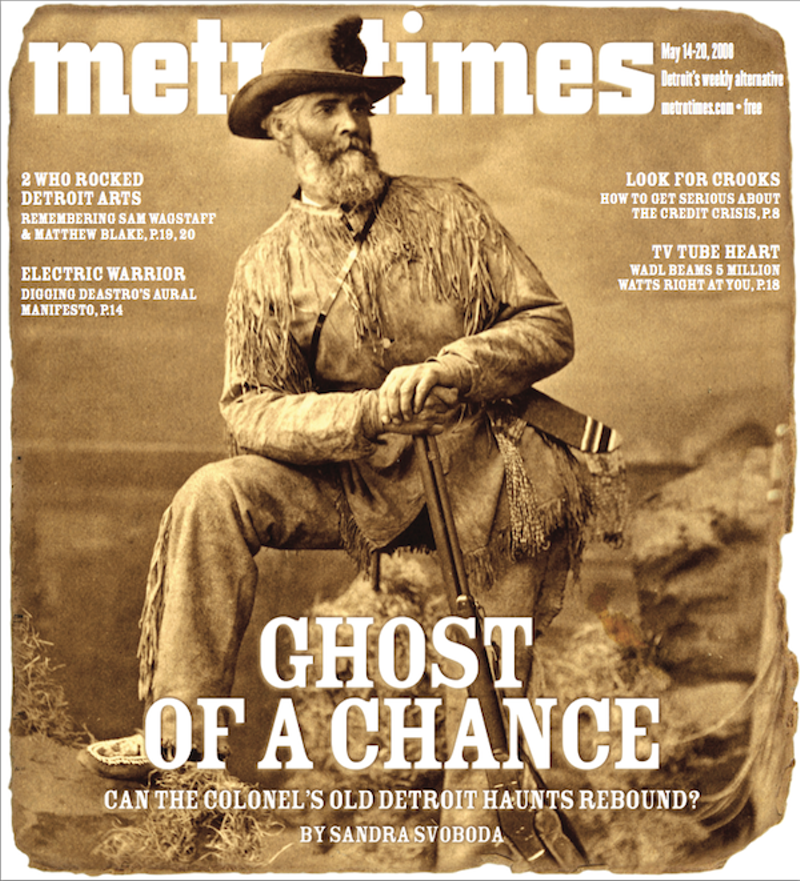 Earlier this week,
we blogged about an article
that points out that racist heritage in civic names and statues isn't just a Southern thing: There's plenty of examples in the North too. In fact, right here in metro Detroit.
The article that made this point was
a piece in the New York Times
by U-M professor Tiya Miles referencing some of our local place names that take their inspiration from those who owned slaves or mistreated Native Americans. Miles said, "The embedded racism of our streetscapes and landscapes is made perhaps more dangerous because we cannot see it upon a first glance."
We had always known that, especially given the fact that Lewis Cass was a strong advocate of "Indian removal," and that so many things are named after him. But as the article points out, the Macomb brothers both stole land from native peoples and owned slaves. (When do we bid out naming rights for the county?)
So maybe we shouldn't have been surprised this week when we encountered
a piece on the Counterpunch site by Chief Stan Grier
of the Piikani Nation of the Blackfoot Confederacy. His piece concerned not Detroit but Yellowstone National Park, where two significant features are named for white men who committed or endorsed massacres of largely defenseless natives, namely Lt. Gustavus C. Doane and Dr. Ferdinand V. Hayden.
So far, so good, right? Wyoming is a long, long way from Cadillac Square, and we can safely say we don't honor those two men's genocidal tendencies here.
But something in the piece made us stop and take notice: It was a passage on the superintendent of Yellowstone who "decreed that the park must be presented as 'Indian-free.'"
That man was Col. Philetus Norris.
In 1873, Norris was not only in Michigan, but founded a village bearing his name on open land along today's Mount Elliot between McNichols and Seven Mile roads. Over the years, it became known as "Nortown" — and his name was ultimately forgotten by most of the people, who assumed it must have been short for "North Detroit."
It was there in the 1870s that he built the village's jail and general store, which later became a dance hall, and survives today as the Two-Way Inn.
Now that's a real surprise, and hits close to home. Not only is the bar among the city's oldest, it's a beloved hangout of Hamtramck's hip drinking crowd. What's more the colonel was once the subject of a mostly upbeat feature story —
right here in this paper
!
At the time, we only noted that he "worked for the Smithsonian's bureau of ethnology to record Native American culture." We made no mention of his conviction that all native peoples must be banished from Yellowstone. It just goes to show you how even we can miss some of this stuff.
Naturally, we don't think for a moment that the Two-Way Inn should be shunned; it's probably Detroit's oldest bar, and a very cool place owned by good people. But it does go to show how much of our history is tainted by attitudes of deeply engrained white supremacy.
"Ah, yes," you might say. "Very convenient for you to defend a bit of racist history when it involves a place for hipsters to drink!"
Well, slow down. It's worth noting that not a penny of public money goes to supporting the Two-Way, and that this bit of history is now a place that caters to people of all races and creeds, only barring those who are younger than the drinking age of 21.
All of which would likely be anathema to the colonel. It's said that the ghost of Philetus Norris still haunts the place. We actually get a tickle of pleasure wondering how he'd react to today's social equality. It'd probably be something like this bit of his poetry, which we have altered to read:
Where the moans of Colonel Norris
Pierce the midnight air,
That fabled white supremacist
Wailing in despair.