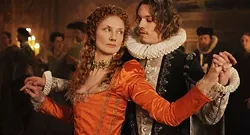 Anonymous
Directed by Roland Emmerich. Written by John Orloff. Starring Rhys Ifans, Vanessa Redgrave, Joely Richardson, David Thewlis, Xavier Samuel, Sebastian Armesto and Rafe Spall. Running time: 130 minutes. Rated PG-13.
B
Anyone who looks to Hollywood for a history lesson is a fool. The movie industry is built on drama and storytelling — often filled with sound and fury, usually signifying nothing. To read all the critical hand-wringing and scholarly acrimony over Anonymous' devotion (or lack there of) to historical fact seems woefully beside the point. Because if any director understands that the play's the thing, it's the guy who pulverized the White House (Independence Day) and destroyed the world twice (The Day After Tomorrow and 2012). So, much as his Godzilla laid waste to New York, director Roland Emmerich seems to want to blow up literature with the bombshell that William Shakespeare never wrote the Complete Works of Shakespeare.
With Anonymous, the director, along with screenwriter John Orloff (Band of Brothers), make a far better case than Emmerich's 2012 made for high-tech arks saving humanity from the apocalypse.
Filled with political betrayals, illegitimate heirs, and court intrigue, Anonymous is a deviously clever mash-up of literary drama, historical thriller and Elizabethan soap opera. After opening with a lovely modern-day introduction by Shakespearean stalwart Derek Jacobi, we witness the 16th century torching of the Globe Theatre and the arrest of playwright Ben Jonson (Sebastian Armesto). The King is in desperate search for the Bard's manuscripts, and is convinced that Jonson knows where they are hidden. This sends the movie flashing back five then, later, 40 years, as we are introduced to Edward de Vere (Rhys Ifans), the 17th Earl of Oxford, a respected aristocrat and castle insider who not only bedded the "Virgin Queen" Elizabeth (Jolie Richardson) when he was younger, but also anonymously pens the plays and poems that still endure today.
Edward enlists a reluctant Jonson to act as a front for his work, only to have it co-opted by a semi-literate yet cravenly opportunistic young actor named Will Shakespeare (Rafe Spall). Meanwhile, with Elizabeth (Vanessa Redgrave) suffering failing mental and physical health, opposing forces prepare for her succession. On one side are the Queen's dastardly advisers William Cecil (David Thewlis) and his son Robert (Edward Hogg), who support the ascension of James of Scotland; on the other, the Earl's of Essex (Sam Reid) and Southampton (Xavier Samuel), who are supported by de Vere. Anyone who knows history knows who emerges the victor. Anonymous links all these players in an elaborate, albeit campy, narrative web, filled with last-minute reversals of fortune and shocking personal revelations.
By connecting the Essex Rebellion of 1601 to the theater of the time, Orloff has constructed a high-spirited yet overly knotty yarn that leads us through the maze that is Tudor history, highlighting the political intrigue that surrounded the throne, and brazenly claiming that de Vere was not only an instrumental political player but the true author to Shakespeare's plays. It is a ridiculously ambitious conceit that leaves Anonymous rife with exposition, biting off more than its 2 hours and 15 minutes can chew.
Still, the movie is as entertaining as it is cluttered. Emmerich convincingly immerses the viewer in the sights and sounds of Elizabethan London courtesy of some very high-priced pixels. Galloping from one plot point to the next, he tightly weaves together the story's multiple timelines, drinks in his settings, and stages Shakespeare's plays with passion and panache. It's an impressive juggling act that bolsters his reputation for spectacle yet makes clear his skill and craft.
With his cast, the results are a little more mixed. Orloff's characters often lack depth or shading, which puts pressure on the actors to connect the dots. While Hogg, Spall and, most especially, Redgrave are splendid in their roles, Ifans and Armesto make for surprisingly bland leads. Ifans should be praised for making some egregiously awkward lines work, and he easily conveys de Vere's bruised nobility. But it's hard to believe the searing intensity, ribald comedy, politically provocations or profound beauty of Shakespeare's work coming from such a reserved and somber fellow.
For all Emmerich and Orloff's attempts to debate the link between art and politics, and stir up authorial controversy, Anonymous presents a vision of de Vere that doesn't exactly inspire audiences to rethink their allegiance (if they had any to begin with) to Willie S. After all, arguing over who really penned Hamlet is a little bit like arguing with a Christian over who wrote the Bible. It all comes down to faith.