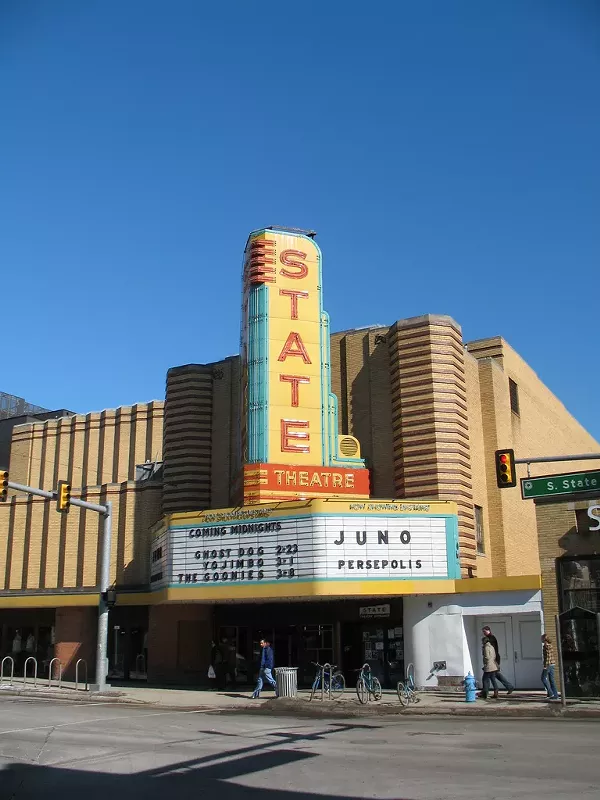 Designed by renowned architect C. Howard Crane and opened in 1942, Ann Arbor's State Theatre closed 10 months ago to undergo an $8.5 million transformation.
The theater, which will celebrate its 75th birthday just in time for a re-opening celebration on Friday, Dec. 8, is still in the process of being restored to its original Art Deco glory, according to Ariel Wan, director of programming and marketing at the Michigan Theater. However, Wan says she's confident work will be complete by next week.
According to a press release, a nonprofit organization called the Michigan Theatre Foundation is overseeing the renovations. Those include the addition of a full-size elevator and escalator, realigned comfortable seating and increased legroom, four custom auditoriums ranging in size from 140 to 50 seats, updated movie projections and sound systems from Dolby Digital Surround Sound, a full service cocktail bar with local beer and cider options, and a renovated concession stand that will feature Michigan-themed snack mixes from Germack Pistachio Company and non-alcoholic drinks.
The theater will also now be handicapped accessible thanks to new ADA features for mobility-impaired, hearing-impaired, and vision-impaired citizens.
The theater will show "must-see arthouse films," and a full schedule has already been delineated. Opening weekend will include showing of
The Disaster Artist
,
The Square
, and
Human Flow
. The Detroit-filmed movie
Destined
will also run Dec. 8-13. That special engagement will include a special guest appearance from the film's director, Ann Arbor native Qasim Basir.
Additionally, to celebrate the theater's 75th anniversary a classic films from 1942 like
The Fleet's In
,
Saboteur
,
Yankee Doodle Dandy
, and
Woman of the Year
will be screened daily.
Lastly, a late-night series will feature 10 p.m. screenings of
The Big Lebowski
,
Rocky Horror Picture Show
, and
Harold and Maude
on Friday and Saturday night.
The theater's iconic sign will be re-lit on Friday, Dec. 1 at 6 p.m., and tickets for all upcoming screenings will go on sale the same day. The theater will officially re-open a week later.
The State Theatre is located at 233 S. State St., Ann Arbor.