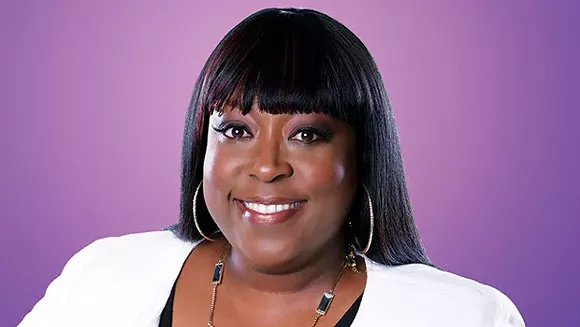 Loni Love is a woman of her word. When we caught up with her before her Saturday gig at MotorCity Casino's Soundboard, she beamed with confidence about her upcoming show. "I am a seasoned performer," she said. "I have great openers. We provide comedy for everybody no matter what your race or gender. We just want people to come out and have a really good time. That's what we've been doing for the past five years and that's what we're going to do in Detroit."
And in fact, Love delivered a stellar comedic performance to a sold-out crowd on Saturday. With many artists' performances there can usually be at least a brief moment of decreased amusement — but not this night, not this show, not in Love's hometown and especially not with "laughter" at stake.
"I keep doing stand-up because the world needs laughter — there's always something happening in the country and in the world," she said. "That's why I wanted to become an entertainer to help people forget about their problems for a little while. There is nothing like a live performance. You can look at things on television and you can look at things on YouTube, but when you get in a room full of people and you say one joke and everyone's laughing at the same thing it's a really great experience."
There are other perks, too. "What I feel good about is when people say, 'I had a bad situation happening in my life and I haven't laughed in so many months.'" Love said. "To have a person come to you especially after show — or they'll write on Twitter that they were having a bad day but I made them laugh — that makes you feel like it is all worth it."
After huge successes like hosting the new hit daytime talk show
The Real
and roles in movies like
Paul Blart: Mall Cop 2,
which grossed over a $100 million, how does it feel for Love to return to her favorite city? "I don't even look at it as success," she said. "I just see myself as a working actor, when I come home I get to see my peeps, we are going to have some good food ... we're going to party. Everybody's happy for you. Nobody is like, 'Oh, you're a celebrity, you are this or your that.' I don't look at it that way. I'm home."
Does she think that her being from Detroit comes through her work or has made her who she is? Of course. "All my work shows that I'm from Detroit," she said. "When I graduated, I worked in the automobile industry. I worked on the automobile line. That's hard work, and Detroiters are hard workers. That's reflected in my work."
Just observe her hectic schedule: taping 20 shows this week, catching red-eye flights, making media appearances, and more. "Back in the day when I was working in the automobile factory we worked 18 hour days, so this is easy!" she said. "Detroit is where I got my work ethic."
Being a comedian, actress, and author, one might think that maybe Love's developed a favorite or a sweet spot for one area of entertainment, but she says that's not the case. "I like them all," she said. "It's always a good time to be either one of them [laughs], especially when they're paying."
Love also dished on her biggest fan-favorite project right now,
The Real
. "It's still an evolving show," she said. "There'll be changes for season 2. We want to improve the show, make it more topical, more interesting, and even get better guests. We have a lot of fan support, so we owe it to our fans to make the show better and better."
Starting in January, Love will be the host of a new game show called
Heads Up
. "It's going to be on HLN, it's so fun. I'm the only one hosting it," she said. "It's more like a talk show-type game show because I get to talk to celebrities and we're giving money away to people, which is something I love to do. It's always nice to let people win money."
Keep up with Loni Love on
Instagram
and on Twitter
@lonilove
. Tune into
The Real
, catch her on tour, or on HLN this January — she may just become one of your favorites … if she isn't already.