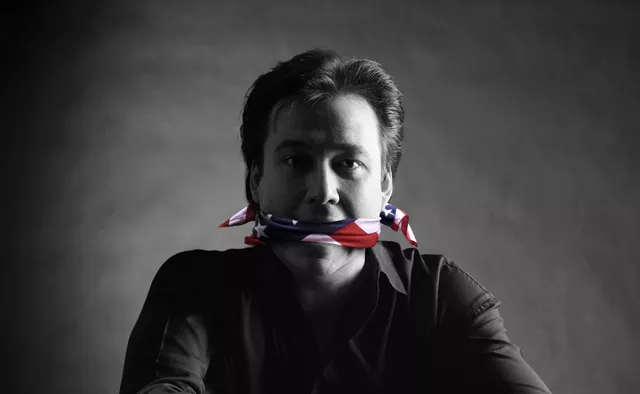 American: The Bill Hicks Story
B
Bill Hicks is finally sort of famous in America; at least in the sense that since his 1994 death from cancer, a generation of young comics has had time to absorb and disseminate his style, if never really understanding his gift. Instead they internalized his jokes and aped his attitude, spreading the word to a slowly but surely expanding laity, who intones his punch lines with a religious fervor. This is exactly the sort of thing that would have really pissed Bill Hicks off.
This thoroughly reverent and ethereal doc, continues the beatification process that has grown like a fungus since the groundbreaking comedian's premature passing from this world and into the grand comedic firmament. If only the throngs of college kids and disaffected hipsters who now wear out Hick's records and bootlegs had been hip to his hilarious rants back then, as, during his life, his domestic popularity never really matched the scale of his talent. He was, however, a major star in the U.K; fittingly this film is the work of two British fanboys, more inclined to revere Hicks' scabrous social criticism from safely across an ocean, than us sensitive, cynical Yanks.
Instead of a serious critical appraisal, the filmmakers have opted for a more intimate approach, relying on narration from ten of Hicks closest friends and family, people more familiar with the man than the legend. The visual conceit here is animated snapshots, as in "The Kid Stays in the Picture," a trick which is both engaging and lulling. It works best early on, when we get peeks inside the Hicks' sedate, suburban Baptist home, in the late '70s, where the teenage maverick began scheming ways to sneak downtown to the Houston Comedy Workshop. These fascinating primordial clips show us a prodigy already comfortable onstage by 15, and we even get onstage glimpses of such contemporaries as Dwight Slade and Jimmy Pineapple, funnymen whose bits are amusing but seem weightless next to Hicks at full power. These may be the people who knew the star so well, but are they the best sources of context? For example, Bill's old drinking buddy Sam Kinison, an epic partier and performer, and by far the larger star at the time, is scarcely mentioned. Also never addressed is the controversy with Denis Leary, an old friend that Hicks loudly accused of stealing his act. Curiously, none of the women in Bill's life (aside from Mom) is interviewed, and their absence is glaring. The affection runs so deep that the film tends to forgive or gloss over rough spots, like his years of blackout drinking, or the deadly smoking habit that was often a focus of his act. Contrarians are by definition disagreeable people, and Hicks, for all his genius, could sometimes be an asshole, even after getting sober. What was the source of his volcanic rage? The film never makes that clear.
American plays less like a primer than a devotional, a dangerous thing for a satirist committed to "evolving ideas." Fortunately, the ample concert footage should intrigue newcomers enough to dive deeper — something the man himself was always ready to do.
Doors at 8 p.m., movie at 9:30 p.m. on Thursday, June 30, at the Brew 'n' View at the Magic Bag, 22920 Woodward Ave., 248-544-3030; themagicbag.com.