Amanda Seales is a truth-teller.
Seales went viral last summer after
she eloquently schooled Caitlyn Jenner at a live-streamed dinner hosted by Katy Perry
after Jenner expressed misguided love of Trump's America.
"The reason I am so passionate — and I'm not hostile, I'm passionate — the reason I am so passionate is
because I've
had such a different experience in this country than you," Seales told Jenner.
And she wasn't wrong. The 37-year-old comedian, actress, activist, and queen of the clap back is passion personified and perhaps one of the busiest women in the business. Having cut her teeth early on as a
Nickelodeon child star
later becoming an
MTV VJ
, and was a touring member R&B group Floetry, Seales now juggles "Small Doses" a weekly podcast where she spotlights "potent truths for everyday use." But she's most notable for her role as Tiffany Dubois on HBO's acclaimed series
Insecure
which returns for its third season on Aug. 12.
And if that wasn't enough, Seales has recently flipped the script on the black standup formula. By integrating comedy with celebration and education via her traveling game show
"Smart, Funny, & Black,"
Seales has created a safe space by flexing her Master's Degree in African American Studies from Columbia University and her incredible wit to celebrate the contributions and nuances of the black experience.
Seales spoke with
Metro Times
before her visit to the Magic Bag to discuss perspective,
wokeness
and her favorite GIFs.
Metro Times:
When did you first realize that you were funny?

Amanda Seales:
I guess when I was seven I started doing this impersonation of
Michael Jackson singing "The National Anthem".
I don't know where this came from or why I conjured this up. I wouldn't whip it out, of course not. It would be like, "do that thing that you do" and I had it on speed dial.
MT:
At what point did you pursue comedy as a career? Probably not at seven, right?
Seales:
No, no. But humor was always a part of my personality so even when on different paths in entertainment whether it was hosting as a VJ or performing as a musician, actor, radio host, etcetera, humor has always been in my foundation. But I didn't make the real turn into becoming a comedian until I turned 30 back in 2011 and I had been so immersed in hip-hop for so long and it didn't feel like home anymore. I realized I wanted to have more of an impact and in order to do that, I needed to be thinking about things in a more impactful forum. I knew comedy was at the root for me until I started doing standup I never considered myself a comedian. I don't consider myself a comedic actor, I'm not an Instagram influencer, like
nah
if I'm going to do this for real and want to be apart of the conversation, then I need to elevate my delivery. So, I started doing standup. It was kismet.
MT:
Insecure
has been pivotal in illuminating the nuances of the black experience, especially for female millennials. Your comedy provides similar visibility. Does it require some degree of balance to fuse your education in African American studies while remaining quippy and accessible?
Seales:
Not really. I think it's always been my tone. Even when I was in school, I was doing papers and writing poems I always had an edge to my delivery. It was never conscious, but it was more so my organic way of thinking about things. I would say it's more about figuring out how to make sure there are multi-layers of humor and maintaining a level of relatability. I speak from a black woman's perspective, and that's a specific perspective, but sometimes there are things I want to be understood by folks who may not have an entryway into that concept so I have to think about how I can open the space to bring those people in. And
that
does require balance.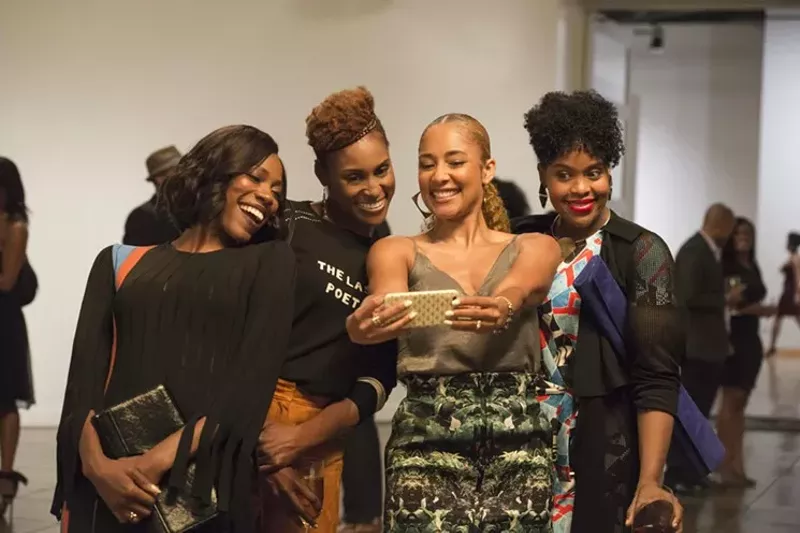 MT:
How did
"Smart, Funny, & Black"
come about and have you found that it can accomplish something that the straightforward standup comedy format cannot?

Seales:
"Smart, Funny, & Black"
came about because I felt that black comedians were being considered as only capable of a certain type of comedy, sort of physical, kind of silly and I felt like we are not a monolith and our comedy isn't either. It was like whenever black comedians had a different style that was more cerebral people would say, oh, they're not a black comic they're more of a cult comic, and I thought that was so misguided. I created that space for black comics and for audiences that want to hear this style of comedy from the black point of view. So, when I moved to L.A., I wanted to make something that had a bit more fun to it, so I turned it into a game show. What it does is creates a safe space to be able to have conversation and celebration of black culture, history, and the black experience. We don't have that in common places with a humorous overtone. There used to be that feeling when you watched
Def Comedy Jams
or
In Living Color
, even
Chapelle Show
, he's going to touch on things that are like a family business, and that's where we are with
"Smart, Funny, & Black."
I always say we don't just talk about black culture but that we take black culture to church.
Metro Times:
In a recent episode of your podcast, "Small Doses with Amanda Seales," you touched on the over saturation of
wokeness
. In your opinion, what does it mean to
be woke
in 2018?
Seales:
Wokeness, for what it's worth, is a buzzword that a lot of people are not truly understanding the depth of. I think sometimes things work their way into the zeitgeist and they lose their weight. And
wokeness
is one of those words that has reached that point. What folks really understand is that
being woke
is simply knowing about oppression and discrimination in a real way and not only just knowing about it but making concerted efforts to challenge it. I think that's the key element is figuring out what it means to you. Not everyone has the same role in the revolution.
Metro Times:
Given the state of the un-woke world, is there something you can always rely on to make you laugh?
Seales:
Light blue doo-rags, FUBU being worn in the street casually like it's 1995, bootcut jeans.
Coming To America
will always be funny to me no matter what. There's a particular GIF of this black dude who is standing on the shore, and he's got his arms in the air like a touchdown, and then the wave is coming, and he realizes it just a second too late and he has miscalculated the wave, and he turns to run and the wave takes him out. It cracks me up every time.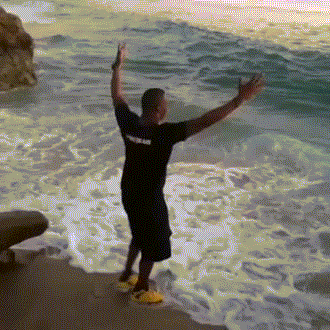 Metro Times:
I think we should do a podcast where we have people describe their favorite GIFs and then listeners are forced to search for them on their own.
Seales:
Listen — my other favorite GIF is Natalie Cole and Whitney Huston at the American Music Awards that's my all time favorite. They're pointing at each other from the stage, and it's like what are they laughing about? Like they have a full inside joke in the middle of an award show. We will never know. But that is a goal of mine. To reenact that at some point in real life.
Amanda Seales will bring Smart, Funny, and Black to the Magic Bag on Sunday, Aug. 5 at 7 p.m. and 10 p.m.; 22920 Woodward Ave., Ferndale; 248-544-1991; themagicbag.com; Tickets are $25.

Get our top picks for the best events in Detroit every Thursday morning. Sign up for our events newsletter.