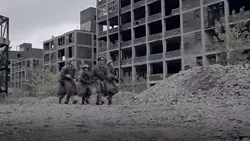 Imagine you're in a darkened room. There's the sound of mournful chamber music sweeping in just as the title sequence ignites; an old map with Detroit landmarks fills the screen — danger's ahead. You feel it. The color palette breathes verisimilitude. It's a gritty world that strangely enough, looks quite beautiful, thanks to the cinematography.
With its orchestral score (by local composer Kevin Wilt), impressive special effects, and a cast and script that have already built a passionate cult following, The Wars of Other Men is a singular achievement. The 27-minute short has garnered rave reviews and was recently screened overseas. But few Detroiters know of its existence. Writer-director Mike Zawacki and lead actor Scott Norman would like to change that.
Zawacki, an Ann Arbor resident, wanted this project to be special. Sure, he'd worked on the set of lots of films before The Wars of Other Men, but this project was extremely personal.
"I spend a lot of time in Detroit on other film projects," Zawacki says. "I know the city pretty well. And I especially know the areas that are a little more abandoned, a little tanked-out, but are slowly being reclaimed by the arts community. And that's generally where I spend a lot of my time. That's my involvement with the city."
The Wars of Other Men started as an idea in 2010, sparked by Zawacki's choice to blend a cocktail that encompassed both his love of alternate worlds and World War II.
"I have this interest in military history, specifically the Battle of Stalingrad," Zawacki says. "I love alternate history, particularly steampunk (a genre favoring steam-powered technology, often set during the Victorian era) and dieselpunk (its World War II equivalent), and I thought, 'Let's combine these two things,' and that's where the notion came from."
The film centers on an unnamed lieutenant who is faced with a moral decision, which informs the climax of the film. The question of whether he'll be a good soldier — and follow orders — or be a good man is one of its stronger themes, making it more than just your average alt-history romp.
While Zawacki wasn't exactly faced with a moral decision as deep as his character's, there were some obstacles. Though it might have looked good on paper, the logistics of producing a World War II film using available materials proved difficult at times.
"Period films are really hard, that's what I learned; visual effects are hard," Zawacki says.
Once the director had found the right cast and crew, it was time to really put his vision to the test. Although the film's on-screen location is Stalingrad, Russia, the shadow of Detroit is all over the film. A keen eye will recognize the Packard Plant and maybe even Eastern Market (a pivotal scene was actually shot during market day).
"We had to make sure nothing was getting in the frame that you wouldn't see in the 1930s or '40s, like graffiti and modern cars — either shooting around it or covering it up," Zawacki says. "The hardest part was dealing with the visual effects. None of us anticipated how long it would take and how much of a challenge it would be."
Collaboration was key to the creative success of the film, and Zawacki's collaboration with Norman has proved invaluable (they first worked together on a locally produced TV series called InZer0).
That working relationship has informed what they do today as a team — with Zawacki behind the camera and the charismatic Norman being the face and spokesperson for the film.
"A lot of folks have been able to use the experience to do other things," Norman says. "We have a network of people. We're filmmakers. We want to create our own jobs. A short doesn't do anything for you except get you attention for the next project."
By 2012, it was a good idea to start sharing this with the public, and the film found a home on the sci-fi convention circuit — particularly steampunk. At the cost of $3,000, you can say the project has, in many ways, exceeded expectation with a growing fan base — and even a reader's choice award from the Steampunk Chronicles.
Next up for The Wars of Other Men is a television pilot, maybe a series — if they can get the backing. And even though the Michigan film incentives have shrunk in recent years, the residual advantages are still in play.
"Yeah, they've been cut back, but what they did was inspire a lot of people," Norman says. "The opportunities haven't really disappeared; it's really about what you want to do. It's really connecting with other people on each project. You're more desirable when you have a network. You don't just come with your own talents, you come with your network of people."
Tentatively, The Wars of Other Men is scheduled for a July DVD release. Zawacki and Norman suggest joining the mailing list (or checking Facebook) for the official date.
The film might have its genesis in a war fought long ago, but the connection to Detroit is even stronger. Norman, a New Yorker, points specifically, to the city's blue-collar roots.
"Detroit's filmmaking community is pretty tight," he says. "As an outsider, what I like about Detroit is the hustle is different. The work ethic is strong. People will get down and dirty. It's something about Detroit's work ethic that permeates everything else, even the filmmaking community."
His collaborator complements the praise: "One of things I really like about Detroit is it just feels like this place that's in the process of being reclaimed, and it's been reclaimed by creators," Zawacki says. "Help us take this uniquely Detroit project out into the world. Let's show them Detroit isn't just ruins and crime. Beauty can come out of it."
To see the film's trailer, or for more information, see thewarsofothermen.com, or Facebook at facebook/thewarsofothermen.
Cornelius Fortune is a freelance writer in Detroit and writes about art and culture for the Metro Times. Email comments to [email protected]