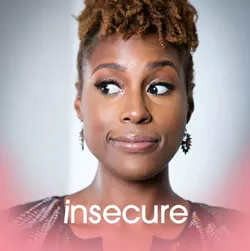 If you haven't checked out writer/director/actress/badass Issa Rae's new HBO show
Insecure
then what are you even doing with your life? Find a friend that has an HBO Go account and start streaming.
Anyway, Rae was recently nominated for a Golden Globe for Best Actress in a Comedy Series for her work on the show, and she will be speaking at the University of Michigan on Martin Luther King Day with Democracy Now! journalist Amy Goodman,
BLAC Magazine
points out.
Rae's star is definitely rising in showbiz, but she has been creating hilarious and fantastic content for years now. She created the web series "The Misadventures of Awkward Black Girl" which inspired a lot of the material on
Insecure.
The event takes place at Hill Auditorium and is free to the public. The talk is in part of a monthlong symposium honoring Dr. Martin Luther King Jr. and will start at 10 a.m. and go until 11:30 a.m. The keynote address will be headlined by Rae and Amy Goodman, and we're super excited to see what these two amazing women have to say.