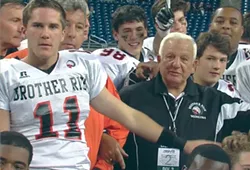 A little over a week ago there was a small birthday celebration of note. It was nothing extravagant, nor was it for a big-time celebrity … just a small crowd gathering in a cafeteria-sized room. Now, you're likely wondering, "Who was it for?" or — more likely — "Who cares?"
In fact, it was for Al Fracassa, the venerated coach of the Brother Rice Warriors, turning 80 years young. The event, fittingly, was held in the Bloomfield Hills cafeteria where Fracassa has dined regularly since 1968. In the interest of full disclosure, in addition to my fledgling sports writing career at Metro Times, I am a volunteer at Brother Rice. No matter though, because whether or not I had even heard of Brother Rice before today, the man who I am honoring transcends my connection to the school.
Now Fracassa isn't a household name, at least in most houses I know. But he's a local sports legend and just a few weeks away from ending a head coaching tenure that has been nothing but successful. Considering that Fracassa's first year at Brother Rice was 45 years ago, I think that speaks plenty about the man's longevity and ability. But I won't stop there; it wouldn't do him justice.
Before I get into Fracassa's ability to lead, let's take a moment to think about this: He's 80 years old. Not many people even live to be 80, let alone coach football until then. There's no doubt that Fracassa is a special individual — figuratively, for his ability as a coach, and literally, for his ability to stay fit and healthy.
His story is more than one of longevity, though. No matter what you think of Brother Rice — whether it might be that Catholic education is outdated, or that the high school sports program recruits and steals the best public school players, or that it gives football scholarships — one thing is for sure: The Warriors thrive on the football field and have produced quality young men for years.
Fracassa doesn't just teach football players (thousands at this point) how to tackle and how to hold the ball. He teaches boys how to be men. If you ask any former Brother Rice football player, he'll tell you how much of an influence Fracassa had on him.
This is important because that's the coach's real legacy. Sure his more than 400 wins are the most in Michigan high school football history, and he's already been inducted into seven different halls of fames. But Fracassa's been a constant shining star in an industry that has more than a few tarnishes. You know, coaches berating and physically harming players, coaches paying players, even coaches blatantly neglecting the kids they were charged to protect and teach.
Since announcing his retirement a year ago, Fracassa has prepared for his swan song. There have been very few games this year in which the opposing team didn've have some sort of recognition ceremony for him. Would that be the case if he was a winning coach, but one who won no matter what the cost?
This isn't about religion, or even the fairness of Catholic school sports teams versus public school ones.
It's about one man who dedicated his entire life to a cause — coaching high school football. Success just happened to come along the way. Brother Rice opened up in 1960 and, eight years later, Fracassa began coaching. The program was nowhere near what it is now; it's practically his child. He built the Warriors' football program from the ground up, like any good parent does with his or her little one.
As the conclusion of the MHSAA playoffs draw nearer, Brother Rice is certainly riding some confidence into its final few games. And what's really unique about this season is that if the Warriors can win their third-consecutive state championship, this will mark the first time in Fracassa's career they've done that.
I can't think of a better way for a legend like Fracassa to go out. Even if you dislike what Notre Dame stands for, at the end of the day, how could you possibly dislike what Al Fracassa has done there?