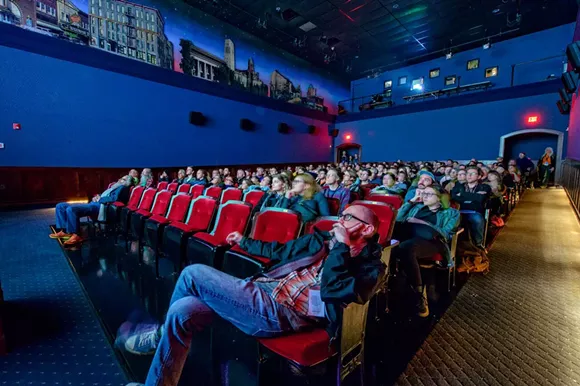 It's a year of milestones for the University of Michigan. While the college celebrates its 200th anniversary this year, the venerable Ann Arbor Film Festival — founded by U-M professor George Manupelli in 1963 — celebrates its 55th iteration.
Leslie Raymond has seen much of this history unfold. While she's served as executive director for four festivals, she says her involvement started as "an intern, like, 25 years ago," and she's served in various other roles throughout the years.
In many ways, the festival has remained true to its early days, still exhibiting experimental and avant-garde films on good old-fashioned 16mm. But Raymond says the organizers try to freshen up the programming this year by bringing in more variety of films. While previous festivals have relied on experimental short films and documentaries, Raymond says this year features more narrative films.
"I think we've opened it up to many more voices, and also expanded our screening process to kind of go back to more of a democratic style," she says. "We were definitely taking a look and trying to figure out what to put in, what was going to make not just a good program but something that showed a variety and breadth of work. We tried to bring in maybe more humor, more levity, this year."
Over the span of this year's festival, more than 120 films will be screened. Raymond says those were whittled from some 2,500 initial entries, which were watched by Raymond and associate director of programs Katie McGowan after getting passed on to multiple rounds of viewers for comment and scoring. When all is said and done, nearly $20,000 in awards will be granted to the festival's best films.
Still, 120 films is still a daunting program. "One of the things we hear so much is people will say, 'I looked at the program, and it's so overwhelming I don't know where to start,'" she says. To help sort through the options, Raymond and the organizers have divided this year's offerings into about a dozen of what they call "film tracks," grouping films into different themes such as "animation," "Asian," "music," "new media," and "totally out there/classic AAFF," among others.
Here's a look at some of AAFF's film tracks:
Amazing stories: Includes Socrates of Kamchatka, which mixes documentary and fiction, telling the story of a successful businesswoman during Vladimir Putin's Russia from the perspective of her horse. Following Seas is a documentary that follows the story of Bob Griffith and Nancy Hirsch, who raised a family at sea while sailing around the world throughout the 1960s and '70s on their 53-foot sailboat. Furusato looks at the aftermath of Japan's Fukushima Daiishi nuclear disaster.
Following Seas Trailer from Araby Williams on Vimeo.
Black diaspora: Includes a screening and conversation with The New Negress Film Society, a collective of black women filmmakers. Prerequisite for Rebellion is a series of short experimental films curated by Afrofuturist (and recently announced Detroit mayoral candidate) Ingrid LaFleur. America for Americans is a short collage of images of "suffering and resistance" — "the presentation of a siege."
Music: The music track includes three programs: Page of Madness, a Japanese film that will be screened with a live band; a competition of music videos programmed and presented by Greg Baise; and a film about experimental musician Tony Conrad.
New media: Includes "Post Internet and the Moving Image," which showcases contemporary artists who create time-based work in the context of internet art. Axes of Dwelling: The Video Art of Yuan Guang-Ming, features work of one of Taiwan's pioneering video artists, mixing the familiar with the uncanny. Yuan Goang-Ming's installation Indication is on view at the Ann Arbor Art Center through March 25.
For a full program of films and other events, including after-parties, see aafilmfest.org. Festival runs March 21-26.