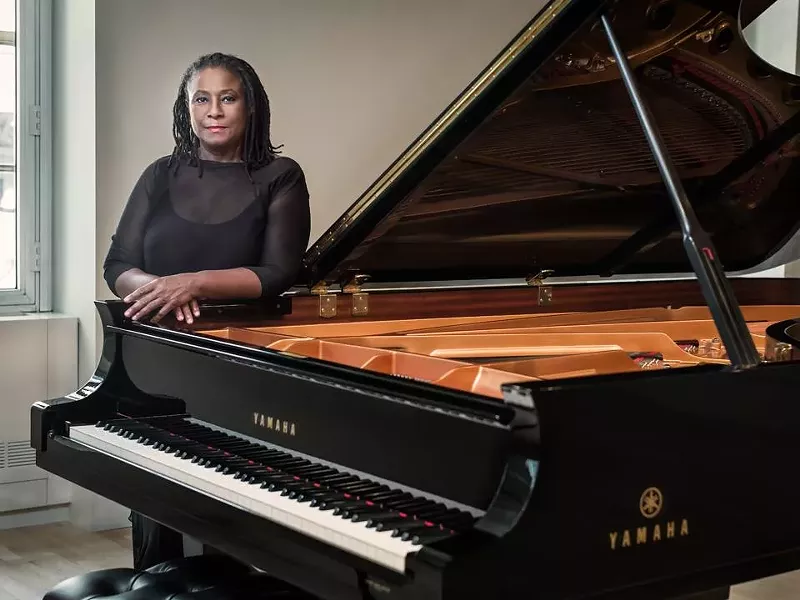 We have lost a tremendous human being in the recent passing of
Geri Allen
on Tuesday. She was a genius pianist who leapt across chasms that divided musical genres. Details of all that are familiar and available across
all kinds
of media
right now and nothing I can say will add much to that.
However, I did recently spend some time with Geri. She was artistic director at the Carr Center and had invited the artist Michael Kelly Williams to do a show there. They were old friends from college. Michael offered a project he and I have been doing the past few years wherein I write poems to his artworks or vice versa to my poems. When the show opened in March I spent a couple of hours with her each day for three days.
The first encounter was her viewing of the show. After we hung the paintings, prints, and poems Geri came in to view it. She was gentle and soft-spoken and asked for a chair. She sat directly in front of each piece in the show to examine it, asking questions of both Michael and me. "What's this?" "Why that?" "How does this piece relate to its counterpart?"
The patience and detail of her examination impressed me. It brought to mind that violinist Gwen Laster once told me that Geri was the first musician she met who practiced five hours a day. Indeed, Geri displayed that she was ready to devote however much time was necessary to digest and understand the project.
A lot of the pieces on display related to musicians, from legends Thelonius Monk and Eric Dolphy to locals Faruq Z. Bey and Wendell Harrison, so it was definitely a connection for her there. Geri was engaged and asked one question that led me to explain how a quirky chord voicing from the composition "Little Rootie Tootie" led to me writing about an inside joke among hipsters.
The night of the opening we performed a group improvisation during which Geri played piano, I freestyled words, and Michael painted at the same time. Earlier in the evening as we prepared for that performance, Geri was warming up on piano. As she played in the darkened auditorium, I sort of danced in place listening to the music and letting words play across my consciousness. The words "gathering together" kept coming to me.
A little later I told Geri that her playing had brought the word "gathering" to me. She told me that was actually something that had been on her mind the past few days. She said that she wanted to gather together her Detroit friends and do a project with them — mentioning bassist Marion Hayden and the author Elreeta Dodds, who long ago played bass clarinet in Griot Galaxy.
When we performed that evening, I listened to Geri so intently I had to remind myself to speak. I riffed on the theme of gathering souls — repeating the question, "Do souls melt?" as Geri faded out on a repeated riff.
Since then I've wanted to return to that in a poem. When I heard of Geri's passing, this poem came out:
Gathering Souls
(for Geri Allen)

When souls gather they become one
As notes melt into a complex chord
Chords melt into composition
Composition melts into improvisation
Becoming a transformative magic
Pulling at coattails with a high hum
A murmur of lushness gathering
The love given freely

We congregate with Geri
A tangle of souls becoming sound