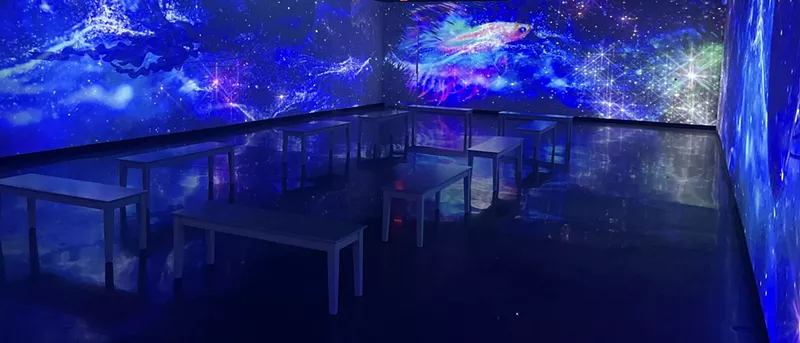 Lauren Fresh wanted a space where people could free their inner child, so she decided to open an immersive art gallery.
Located in Ferndale at 211 W. Troy St., The Imani Immersive Gallery offers an escape into an underwater fantasy. Whales and fish swim along the walls of the 4,850 square-foot space, alongside colorful fish in deep ocean blue.
"An adult playground atmosphere is what I really want to create," Fresh tells Metro Times.
The gallery will officially open on Saturday, May 20. Beyond the projection mapping room, it also features a floating maze, hands-on games, and LED seesaws and chairs that change colors.
"What sets me aside from other immersive galleries is also having a hands-on gallery," Fresh says. "I'm a hands-on learner. I like to touch and see things and figure out how things work. So it's just offering a different experience for people, especially here in downtown Ferndale where you have all the bars and restaurants. It just adds another fun activity to do."
Fresh is an event planner, and she got the idea for The Imani Immersive Gallery after realizing how calming immersive art was for her anxiety.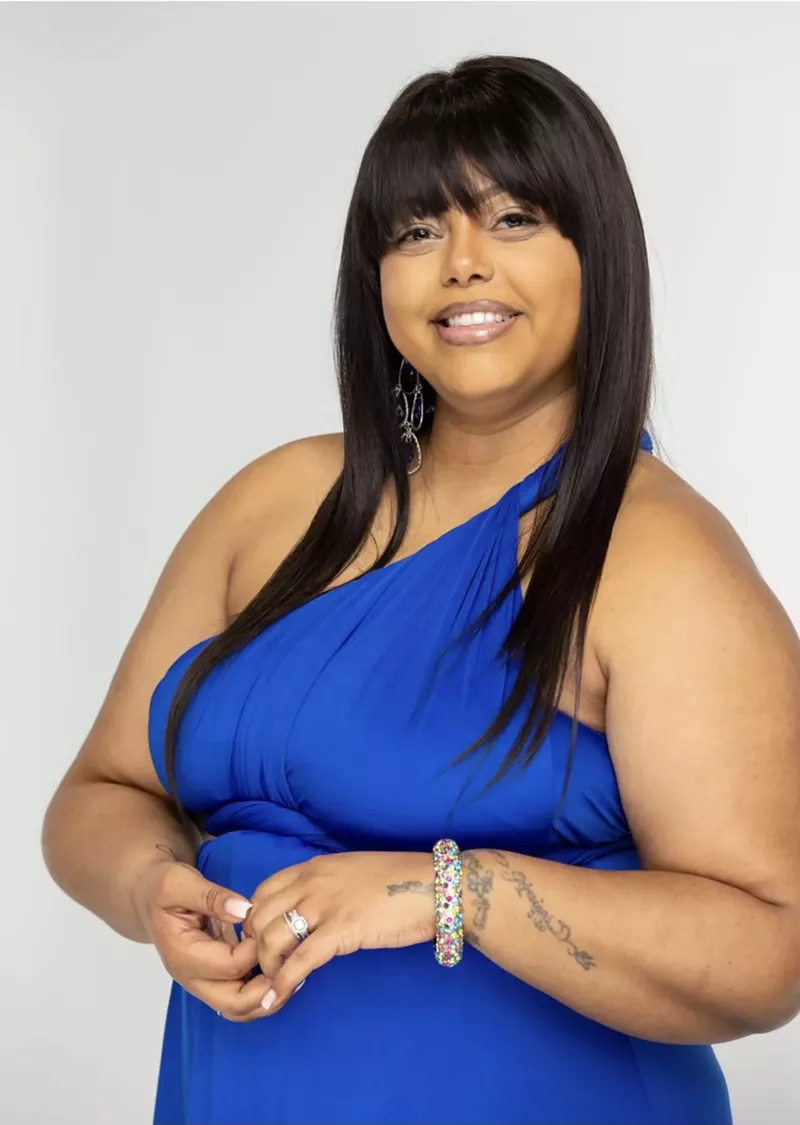 "I have always created an experience for someone so it was a natural step for me to transition into opening an event space, but I wanted an experience that people could walk into," she says. "As I experienced immersive art, I wanted to create the feeling that it made me feel for others. I've dealt with anxiety and depression and it helps me decompress. What's a better tranquil experience than an immersive gallery?"
The space also has a podcast studio for rent with audio and video capabilities and is available for private events. For Mother's Day, Fresh partnered with Pushin Petals for a brunch with a floral-themed projection mapping display. She says the gallery will have rotating themes once it gets up and running.
"My husband has a podcast and we just thought that it would be great to blend all of those things together. It's like a one-stop creative shop," she says.
The immersive art trend hit Detroit hard in 2021 with two competing immersive Van Gogh exhibits. Since then, LightHouse Art Space has set up shop in Detroit's former Harmonie Club building with Immersive Klimt, Immersive King Tut, and Immersive Disney events.
The projection mapping exhibits at The Imani Immersive Gallery are all created by Detroit-based LightBender Studio.
Tickets to the immersive gallery are $40 a person. Renting the podcast studio starts at $60 an hour for audio or $100 for video production.
For more information, see theiigallery.com.
Subscribe to Metro Times newsletters.

Follow us: Google News | NewsBreak | Reddit | Instagram | Facebook | Twitter