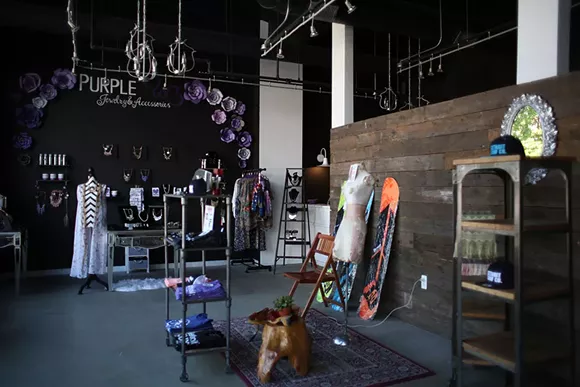 Curl Up and Dye owner Jennifer Willemsen had run her successful Midtown salon for seven years, amid the bustling renaissance of the block that's home to shops and restaurants like Source Booksellers, Cass Corridog, Avalon International Breads, Treat Dreams, Thrift on the Ave, Hugh, Nora, Tulani Rose, La Feria, and the Spiral Gallery.
And as the block changed and grew, so did her dreams for the space at 4215 Cass Avenue. Willemsen, a talented stylist, was ready shift her focus to an entirely different concept. Now, the building is home to Joyride Detroit, a permanent retail location that allows small business owners to "pop up" in a brick-and-mortar space.
That concept allows locals the experience of doing business in-person with local artists, crafters, and makers that they might otherwise only be able to deal with in an e-commerce setting. It also allows business owners to test the waters of operating a retail space rather than conducting business solely online.
So far the building has hosted Cara Lundgren's Detroit Dolly Rockers, Alyssa Klash's Artsy Fartsy, Purple Love, TJ's Sweet Repeats, Cass Brand Organics, Triforia, Detroit Surf Co., and others. Each business sets up shop in a cozy corner of the building, carving their own aesthetic out of the raw, industrial space. Those familiar with Ferndale's Rust Belt Market will have a good grasp on the concept.
Though things are going well for the space (Willemsen says the vendors see a huge uptick in business by using the building), she says the future is uncertain. Operating the pop-up is a lot of work, and it's hard to turn a profit, Willemsen says.
"It's really hard, but the community really loves it," she says. "For a lot of brands, it's a really applicable space and the diversity of Midtown really works to their advantage."
For that reason, she's planning on keeping Joyride going for the next couple months. Beyond that, this business's future is still in question.
For now, Detroit Dolly Rockers, Purple Love, and Detroit Surf Co. are operating inside the space.