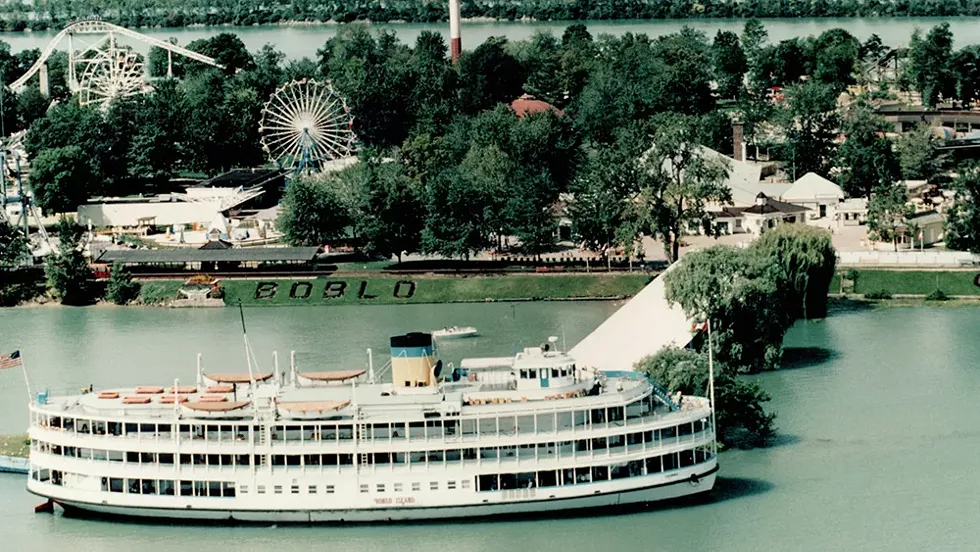 Mayer lives, breathes, and bleeds all things Boblo, which is why he quickly became Kattoo's right-hand man. He and his husband, who are featured prominently in the film with their collection of exotic birds and Boblo memorabilia, including actual rides ("The Bug" still functions) and attraction set pieces from the amusement park, as well as a moving, enchanting, and ever-evolving miniature model of Boblo Island Mayer has been putting together since 1989. (The model's not a completely accurate recreation of the actual island, due to the fact that it has more rides than Boblo ever did. Mayer refers to it, optimistically, as his "future Boblo.") He proudly displays photos, life jackets, souvenirs, and his work uniform from when he worked at Boblo Island at a concession stand at 18 years old, and in many ways, Mayer is, in his mind, still 18, slinging hot dogs and Faygo soda. The closing of Boblo Island was somewhat traumatizing for Mayer, who Schillinger says is the unofficial heart of the film.

"For me, he's kind of the center of the story, because it affected him the most, emotionally," Schillinger says. "He was very easy to find. If you just start typing 'Boblo' into YouTube and scroll, eventually, you'll get to some interviews with him that local TV stations have done, coming out to film his mini amusement park. But nobody had spent a whole day with him to dig a little beneath the surface, because on the surface he's such a happy guy but… there's a sadness there."
Among the film's revolving door of characters is a mustachioed biologist; Dr. Kattoo's raven-haired wife and her brother, who takes over the day-to-day responsibilities of the boat's restoration; a member of the Detroit Historical Society; members of the community who wish Boblo would live again, and others who rather see change happen within Detroit's neighborhoods before investing funds into repairing a boat; and developer and self-made Seattle-based entrepreneur Michael Moodenbaugh.
Moodenbaugh bought the island — including the rides, pavilions, and an additional 100-acres — for $3.7 million in 1993, and had just 45 days to turn it around so that it could be profitable by the time it reopened for the season. He had previously been successful in reinvigorating a neglected Seattle-area water park and, with big-time investors like Jack and Larry Benaroya, Moodenbaugh's dream seemed like it could easily become a reality. And it did. For a flash, people had returned to the island in record numbers.
That is until Sept. 24 of that year, when Moodenbaugh was involved in a devastating car accident, in which he was placed in a drug-induced coma and was left paralyzed from the waist down. While recovering from his extensive injuries, his partnership with the investors soured and he learned that the Benaroyas had taken control of the island, put it into bankruptcy, fired all staff, sold off the rides, shut the park down, and sold the land. As Moodenbaugh states in the film, it is Boblo that "paid the price."
Perhaps the most magical figure in the film is that of the SS Columbia, which is anthropomorphized and voiced by Motown legend Martha Reeves. After all, what is a ferry tale without a little bit of magic?
"It was almost like this last vestige of something that for Detroiters represents this bygone era, or better times, and people were trying to hold on to that."

tweet this
"Having the boat tell her own story was kind of my artistic way to get in there and tell it from a way that may be interesting to me," Schillinger says, adding that Martha and the Vandellas had performed on Boblo Island in the 1970s. "And I think that idea came to me after talking with Gloria, because she hears the boat speak. And I remember it was just like, I was staying in Monroe at a Red Roof Inn and there was a thunderstorm. I was there with my cinematographer Joel Flinders, and it just kind of clicked for me because I kept thinking, 'How can I make this documentary magical?' A magical narrator! Of course, have the boat talk! It was almost like common sense."
"When Boblo closed down, Claire and I fell into a deep slumber," Reeves narrates. "It seemed like even the Motor City itself was fast asleep. Shops closed their doors. The fires of the factory furnaces grew cold. The rivers slowed, even down to the fish, their fins frozen in time. And there we were, the oldest steamboats in America slumbering away, waiting for someone to come and wake us up."
Unlike the Ste. Claire, which is situated along the Detroit River, the SS Columbia was purchased by a New York-based nonprofit with lots of resources and contractors who hope to transform it into a traveling museum along the Hudson River. Reeve's narration, written by Schillinger, is both heartfelt and heartbreaking as Columbia speaks dotingly of its sister. It's like when an older sibling moves out and heads to college, leaving their brother or sister to fend for themselves against the tyranny of parents, authority, and growing up.
But the magic doesn't stop there, as woven in the tale of amusement park rides, dancing, and the efforts to preserve this special moment in Detroit history, Schillinger recruited production designer, puppet builder, and animator Bec Sloane to help tell another Boblo story, one rooted in the civil rights movement.