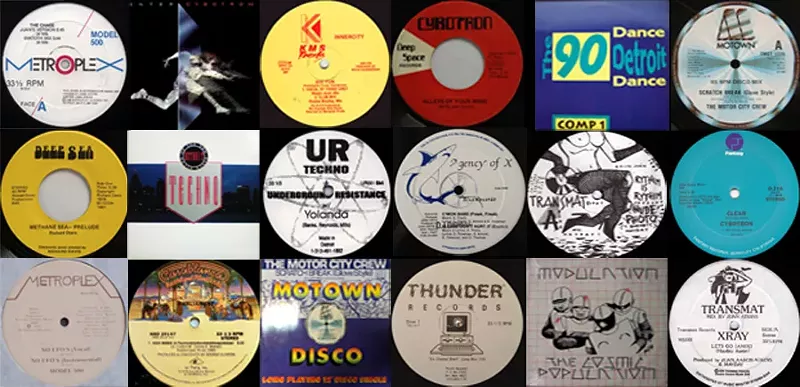 Anyone with even a passing interest in Detroit dance and electronic music should drop what they're doing and head to the discography database
Discogs.com
.
A user has created
a chronological history
of Detroit dance music records from the decade of 1981-1991, which includes 263 records, including seminal and rare cuts by Sharevari, Sound Of Mind, Jeff Mills, and Juan Atkins.
But what makes the list truly great, aside from its thoroughness, is user funk_wid_it's record collector commentary sprinkled throughout. This guy is a superfan, and it shows.
There's the delicate handling of the classic argument over which was the first Detroit techno record, A Number Of Names' "Sharevari" or Cybotron's "Alleys of Your Mind":
"Whatever, let's stop nit-picking; both came out the same year; both of these tracks made (Detroit) dance music history; both received local Detroit radio support via the likes of cult and influential Detroit radio jock Electrifying Mojo and both gave birth to a new dance music genre — Detroit Techno."

"As for my personal opinion? I would actually put them both in joint first LOL. Sounds more than fair and justified, at least until someone can prove 100% one way or the other. But that isn't going to happen."

Then there's his descriptions of the tracks, which range from fanboy praise to brutally honest takedowns.
Of 2 the Hard Way's "It's Dangerous," he writes:
"Pretty good Kevin Saunderson and Scott Kinchen Hip-House effort! An average female Hip-House style vocal rap delivery + a Tyree 'Video Crash' sample + Inner City style synths and there you go - Wham! - a Hip-House classic!!"
On K-os's "Definition Of Love":
"Come on, be honest now, do any of you real and true Detroit Techno bods actually like this track? I always found it far too commercial for my taste. For me, it's Saunderson's weakest track along with the truly terrible 'Dear John'. Sorry, Kevin."
On Saunderson's "Dear John":
Warning:Avoid this track at all costs - truly terrible!!!!!! I've Had no choice but to be add it as it's part of the KMS cat. God only knows what Kevin was thinking of releasing this rubbish. Not even remixes from Carl Craig, MK and Chez Damier could save this truly awful track.

Another thing, thinking about it now, why the hell were no instrumental mixes included? At least that would have been its one saving grace.
Apparently, there's plenty more where this came from. Funk_wid_it says
Part Two (1992-2002) will come "ASAP."
We can't wait.