In early October, the Detroit Institute of Arts announced it would
raze the Barat House
, a structure erected in the early 1960s that was used by The League of Catholic Women as a psychiatric facility for teen girls.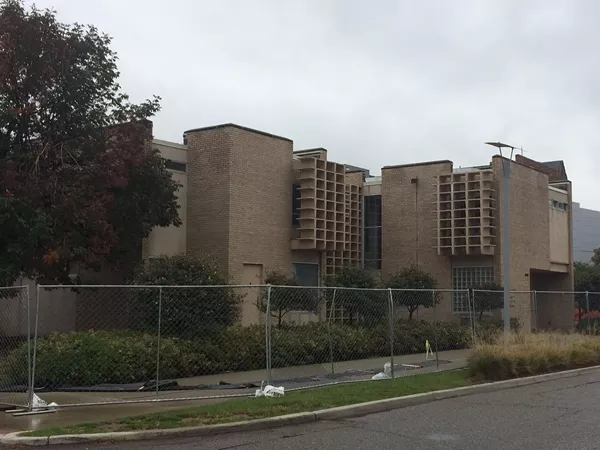 The decision to demolish the building in order to add 65 parking spots for the museum's use was met with some consternation. A prankster affixed a
phony museum label to a fence
around the property that seemed to embody the barbed criticisms being lobbed at the museum.
Barat House, 1961
Concrete, brick, cinderblock, steel, and glass

Robert Harter Snyder
American, 1918-1985

This unique midcentury modern building was commissioned by the League of Catholic Women as a psychiatric clinic for young women. Its functions evolved over time, but it was occupied for more than 50 years until being purchased by the DIA in order to be demolished to create 65 new parking spaces.

Museum Purchase
Now, a longtime museum employee, Paul Sewick, announced this morning he has quit his job as an accounts receivable specialist as a means of protesting the building's demolition.
In a long story published on his personal blog this morning, Sewick lists four main reasons that led to his decision. Chief among them seems to be that he feels the demolition goes against the DIA's mission. Additionally, he says he feels the demolition will take away from the city's urban fabric, it won't ease parking concerns, and that DIA leadership acted without transparency.
The DIA still asserts the demolition was necessary to alleviate parking concerns for not only the museum as well as the nearby Michigan Science Center and Charles H. Wright Museum of African American History.
In an email statement, the DIA's spokeswoman tells
Metro Times
the museum does not comment on personal matters, but reiterated a need for additional parking.
Lack of parking continues to be a critical issue for the museum, and will become more so next year during the run of Star Wars. A recent survey shows that lack of parking is among the top three most significant reasons why residents of the three counties don't visit the DIA more often.

We hope that converting the property to a surface lot is a temporary solution while we continue to explore future-forward development for both the underground garage and the existing surface lot on John R. We would like to consider a plan that supports the "town square" concept, in which we can have sufficient visitor parking on John R while also a creating pedestrian-friendly public space that better connects the DIA with the Science Center, the Charles H. Wright Museum of African American History and CCS.
You can read Szewczyk's post
here
.