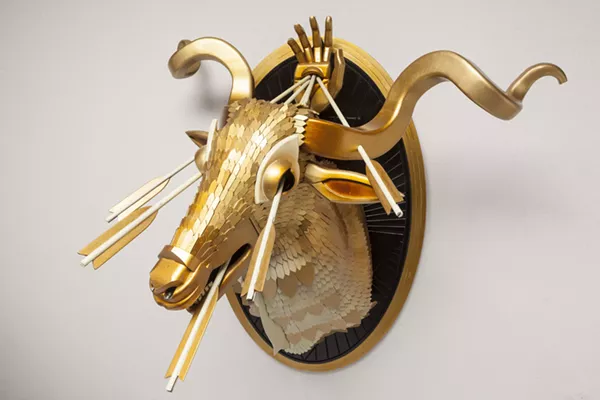 A Detroit native, Portland, Ore.-based fine artist AJ Fosik has gone on to make a name for himself in the world of contemporary fine art through his signature style of intricate, hand-carved, and surreal wooden sculptures of animal busts — making From Ripe to Rot, the artist's latest exhibition, something of a homecoming show.
While Fosik's work evokes taxidermy and has an undeniable dark aspect, he describes it in a different light. "I think sometimes people mistake my work for the macabre but in fact it is the opposite," he says in a statement. "I use imagery tied to the impermanence of being in my work as a celebration of this brief time we have."
From Ripe to Rot will be on display at Library Street Collective, located at 1260 Library St., Detroit, starting on Saturday, Aug. 19 until Saturday, Oct. 7. The opening reception is Saturday. Aug. 19 from 6 to 9 p.m. Admission is free. For more info call 313-600-7443 or go to lscgallery.com.