On March 13, 2013, Shinola President Jacques Panis made a presentation at the University of Michigan. The lecture, sponsored by the U-M Center for Entrepreneurship, was so off-the-cuff it almost appeared Panis came on stage without much of a plan. He spoke in a halting, disorganized manner, described Detroit as a wild place full of open-air drug sales, and even threw off a line about "drunken indians."
Hardly anybody in the audience seemed to care about the gaffes. At the end of the presentation, many of the young business-oriented students clustered around Panis, seeking internships and insights. But at least one member of the audience was "shocked" by the speech: Rebekah Modrak, a professor at the Stamps School of Art and Design at the University of Michigan.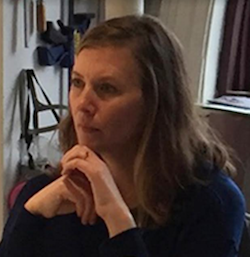 "I was looking around like, did I imagine that he said that?" Modrak recalls. "I couldn't believe some of the things he said. Referring to Detroit as 'wild' frequently, I think four times, 'crazy.'" Modrak adds, "It was the one lecture that year that the Center for Entrepreneurship didn't put online."
Modrak also noted the way Panis' lecture relied on projected imagery of Shinola's workers in particular and black Detroiters in general. Given her background in art and photography, Modrak is fascinated by the way representation depends on who's behind the camera. "Photography is historically used as a tool of power," she says, "by photographing people who are more vulnerable and choosing how to image them."
Wanting to offer a critical evaluation of the lecture, Modrak came up with what might seem a delightfully goofy idea: Creating
an almost hourlong video of what appears to be Panis' lecture
. But that's not Panis on the stage; it's an actor, playing Panis, on the actual stage he'd occupied. Now it is Modrak behind the camera, assuming full authority as photographer. And yet she doesn't abuse her power: A carefully worded introduction makes clear that the re-enacted speech is taken word-for-word from the original lecture.
"I didn't want to alter anything that [Panis] did," Modrak says. "In fact, the interesting thing about hiring the actor was that this actor is trained and he knows how to use his voice, and he has a kind of deep voice and he has a real sense of projection when he speaks. I mean, he he gave this lecture with much more authority than Jacques Panis did. I felt like that was important, because if I had to err on either side of Jacques Panis looking like an idiot or Jacque Panis having more authority, I'd rather give him more credit than less."
That video is at the center of an entire website Modrak created to analyze Shinola's efforts to use Detroit's grit and toughness to help market their watches. It's called
Rethink Shinola
, and it doesn't pull any punches. All told, it offers more than an hour of material, opening with a provocative image: An ad used by the former Shinola company (1877-1960) before the name was bought in 2001 by Shinola's current owners. The ad features a caricature of a black shoeshiner.
As the Rethink Shinola site points out, the "new" Shinola "also creates representations of whiteness to reinforce their 'leadership' and creates and markets images of black workers being grateful for this so-called leadership. Constructing and controlling images of African Americans is central to racism and maintaining white supremacy."
After this bracing introduction, the website's viewers get an enjoyable hour or so of work that Modrak says comes from "somewhere in the intersections of art activism." In Detroit, where we're more used to a more direct manner of "speaking truth to power" — high-octane rants and rousing broadsides that make their points directly — it's a pleasure to see a salvo come from the intersection of critical theory and art.
Part of that is because Modrak has a bang-on sense of humor. This isn't Modrak's first foray into using art to criticize entrepreneurial pretensions to authenticity. Modrak had used art to satirize New York-based company
Best Made
, makers of individually numbered, hand-painted, artisanal $350 axes shipped to your door in a hand-made crate. As
one content marketing writer noted
, buyers can "smell the wood smoke in their hair and feel the crunch of leaves underfoot, all without leaving their Williamsburg walk-ups."
"And so I re-created their company," Modrak says. "My site is called
ReMade Company
, and it is identical to theirs except that I sell $350 artisanal toilet plungers. And so I re-created their adventures and their brand, including their brand video and social media." The four-year project is still up, and offers plenty to snicker about, including a very funny short video with a lot of campy humor.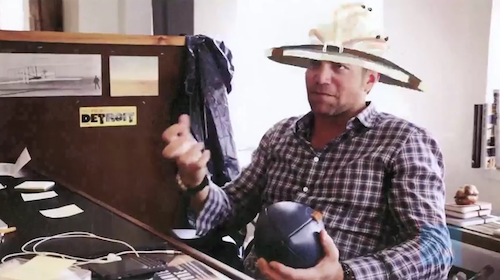 Some of the Rethink Shinola content is even funnier.
They've deranged a Shinola video
featuring company president Jacques Panis. It's a company video, but it has gone through a process the French call
détournement
— specifically, the company president has all manner of hats drawn on him, plantation planter, pith helmet, top hat, plumed cavalier, etc. All of which set off the imagery of black bodies working in his factory. It's a neat bit of humor that makes its point well: Golly, Shinola does dwell on just how well it treats minorities.
By the time you've perused the information and videos online, Modrak's discussion of the way Shinola trades in imagery of black people, the re-enactment of Panis' bizarre speech, see if you if you don't develop at least a slight discomfort over Shinola's branding game. You almost start to wonder: Are we in Detroit, in this majority-minority city, being taunted?
"I think it's just an expression of power," Modrak says. "And it's so interesting to think about them now in the context of the conversations around pulling Confederate statues down, because here you have somebody who's, like, putting up the statue and honoring it. ... You know, if they had maybe done this in Texas, resurrected Shinola in Texas, that's bad enough, but to do it in Detroit is … I mean, it's unfathomable."