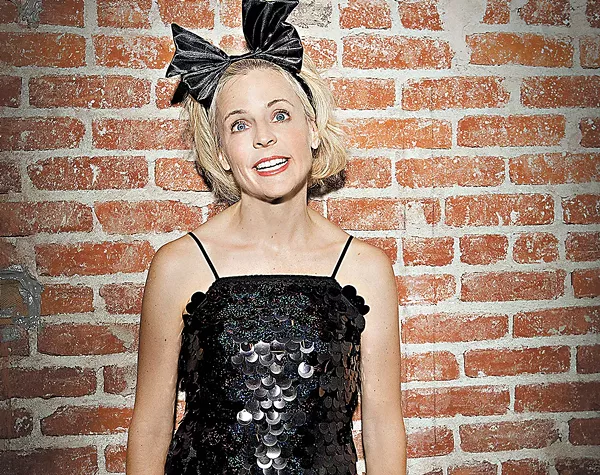 To understand comedian Maria Bamford is to understand the darkest corners of your own mind.
The 47-year-old is best known for her mélange of offbeat voices, parodied characters, and sharp, absurdist humor. However, it might be her ability to joke about "electric-green gripper socks" issued by the psych ward she spent time in after suffering a mental breakdown in 2010, or the right time of year to commit suicide (the fall), that is most endearing — not because it is shocking but because it is real.
Take "The Anxiety Song" for instanc — Bamford's recurring diddy that acts as a legitimate, albeit uncomfortable, coping mechanism for managing her contention with "unwanted thoughts syndrome," a form of obsessive-compulsive disorder
"If I keep the ice cube trays filled no one will die, as long as I clench my fists in odd intervals the darkness within me won't force me to do anything violent or sexual at dinner parties," Bamford warbles without taking a breath, smashing her fists together.
This is not gossip nor tabloid fodder. These are among the intimate details Bamford shares on the couch of late night TV hosts, in front of stand-up audiences, and in the semi autobiographical scripts of her short-lived Netflix series Lady Dynamite. With Bamford, it's not all doom and gloom. Despite her battle with bipolar disorder and ongoing struggle to perfect the cornucopia of medications required to manage her conditions, Bamford's comedy is like looking into a mirror — with foggy impressions of a smiley face traced with a pruned finger tip. Nothing is quite as it seems.
Following a performance, Bamford spoke with Metro Times about why comedy is low risk and why there should be more live animals in the audience.
Metro Times: What happens when you're on stage?
Maria Bamford: I mean it's all out of my control really. At least I feel like comedy's changed so much just because of the internet. People know exactly what they've come to see, so it isn't very risky to go up in front of a crowd in terms of reading the audience — if they're not enjoying what you're doing that's terribly unpleasant. I can go anywhere in the world and experience that if I wish. If I want to find a crowd that I will not do well in front of, I'm sure there is a crowd right outside my hotel room who would be not interested in what I have to say.
MT: I think most people confuse improv and stand-up because stand-up comedians tend to be so conversational.
Bamford: Oh, yeah. No, I memorize everything and say it verbatim every single time. There is no improv involved.
MT: What is the writing process like for you?
Bamford: I think you've just got to, I mean, poop it out, throw out everything, and then see what you like. You can't edit yourself at all. Then, maybe go, "Oh, I think this is what I'm trying to say." Maybe try to make an idea more clear, but it's not like I'm, yeah, trying — I mean, of course, I would like to be hilarious and clever and extraordinarily meaningful as a comedian. Unfortunately, that clearly hasn't happened, so I will just keep, you know, keep putting stuff out there, I mean I think that's the arts or just life itself. You just keep showing up to work and trying to learn and do the best you can.
MT: You were on Late Night With Stephen Colbert in front of millions of people discussing what it was like being committed to a psych ward. Much of your comedy is taken from your experiences with bipolar disorder and unwanted thought syndrome. At any point did you want to put any of this back in the bottle?
Bamford: Not really, I mean, no. Weirdly, it's been a very positive experience. It's a lot like any other prejudice. There's nothing I can do to change somebody's mind about somebody. But I can at least make ... maybe at least be open about my experience so that somebody else doesn't feel alone. Because I think I felt so — I mean, even though there are tons of very famous people over many centuries who have talked about mental health issues, it was so frightening.
I've read different memoirs and — I have Patty Duke and Marya Hornbacher, beautiful memoirs about bipolar experiences and that was really helpful to me. So, I guess I wanted to do something like that that. And also I was so mad — so mad at myself in some way because I was so prejudiced against having mental health problems that I wouldn't even go for help.
MT: Yeah, but I mean so much of that is we've been conditioned to feel like there is a "normal" that exists. Has comedy aided in your own wellness? Has it been, for a lack of a better word, therapeutic?
Bamford: Oh, for sure. Of course. I know being on stage is, psychologically, better. I feel good after being on stage and presenting something.
When I was a little kid I would get on stage for theatrical things and it was really wonderful. It always felt good. So yeah, it's always been a mood changer and a way to connect with people, even though I have been shy. It's a nice way to connect with people that feels pretty not very risky, in a lot of ways. Cause you don't really have to talk to anybody. You're talking at them.
MT: Speaking of talking, you have developed so many voices and characters. When did the voices start?
Bamford: I think I did voices just to distract from my own voice cause my own voice has not gotten me positive feedback over the years.
MT: Really? How is that?
Bamford: Yeah, yeah. High squeaky lady voice. It's funny. I liked an element of surprise, being able to do different voices is powerful, or it felt empowering to me at an early age. And the fact that I could do different characters, I wouldn't have to audition for a play and wait for rehearsals and wait to be cast in a play, I could do all the parts.
MT: It's interesting to watch people respond to mental illness when it's structured in a comedy setting. How do you balance being able to present your truth and trauma with punchlines?
Bamford: Well, I think you just do the best you can. If somebody doesn't find something funny it's their problem. There's nothing I can really do to... 'cause I understand that, somebody talks about a topic I'm uncomfortable with, I would have an uncomfortable kind of face. I can't imagine what that topic would be...
MT: Are there any topics that are completely off limits for your own comedy?
Bamford: Well, I guess I like to be respectful of my family. Not to sell them down the river for the purposes of a joke. I guess just trying to be a pleasant or a kind person at least, in the way that I define kindness which I'm sure is very different from some other people. Everybody has a different version.
MT: Why should someone come see a Maria Bamford performance? Who is your audience?
Bamford: Well, I think they would have to self-identify. I'm very proud if there are any artists in the audience. I like creative people. Not that everyone isn't creative, everyone's creative in their own way. But I would hope, this is my one hope, that whoever would come see me is that they've seen something I've done and they found it wildly entertaining. But if they're going to be identified, I don't know, I don't want to —
MT: They're people, though, right? Humans?
Bamford: Yeah. I think all humans. I would love to have dogs and kittens —
MT: More of an animal audience?
Bamford: Mostly livestock.
Maria Bamford will perform Friday, May 25 at the Royal Oak Music Theatre; Doors at 8 p.m.; 318 W. Fourth St., Royal Oak; 248-399-2980; royaloakmusictheatre.com; Tickets start at $29.50.
Get our top picks for the best events in Detroit every Thursday morning. Sign up for our events newsletter.