The story of An'Dee begins in the way any proper story should — with a stunning rendition of a Barbra Streisand song.
Whenever Justin Malone-Horton and his mother Camelia Malone came to Middlebelt Baptist Church on a Sunday morning, Dr. Fleda Fleming made it her duty to drive them home after service. It was during one of those rides that Malone urged her son to sing. Almost as soon as Justin opened his mouth, Fleming turned around in amazement.
"I don't think it was the song," she said. "It was just the quality of his voice."
Fleming was so impressed that she invited Justin to sing a "showstopper" at a fundraising extravaganza sponsored by EQUIPPED, a nonprofit that Fleming, a former high school administrator for the now-dissolved Inkster school district, founded. EQUIPPED provides academic enrichment programs and other support initiatives for kids from Inkster and surrounding communities.
She told Justin, 15, to come back with ideas in a couple of weeks, but there was no need. He'd chosen Streisand's "Don't Rain on My Parade."
He brought down the house.
Fleming knew she had a great talent in front of her and was inspired to do something about it. Justin's skill, combined with his family's challenging personal journey, reminded Fleming of a classic musical.
"At the time, Annie was my grandson's all-time favorite, and I was probably watching it three times a week!" Fleming says.
Fleming met the talented singer and his mother two years prior at the Wayne County Family Center, a homeless shelter in Westland where they were staying for the second time.
Justin's mother, now a production operator for Chrysler, was working as a waitress until a carjacking left her without a vehicle, inevitably causing her to lose her job and eventually the townhouse they were living in. They went to the Wayne County Family Center, where their accommodations were comfortable. Still, the family never forgot that their comfort was provisional.
"It was kind of hard for me," Justin says. "Sometimes the food wasn't adequate or the sleeping arrangements would be very cold. My school would be super far away, so I'd have to wake up earlier than 5 a.m. And then I would still have to get there on time and make sure that I'd eaten."
The family has since found permanent housing in Midtown.
Justin, his two younger siblings, and his mother were at the shelter for 28 days before they found accommodations. This made traveling to church difficult, and the family had to catch three buses to make it there. That's when Fleming's fortuitous drives and the seedlings of what would become An'Dee took root.
With the assistance of Churi Level, a local performing arts instructor, a script loosely inspired by Justin's story took shape, and Annie transformed into a young, black mezzo soprano named An'Dee.
"An'Dee is basically about a 12-year-old boy in foster care who is very determined to make his dreams come true," Justin says. "He loses something very, very important to him, and it's kind of centered around getting that back."
The proceeds from An'Dee will support academic programs for young people at foster care homes and homeless shelters in the coming year. EQUIPPED has partnerships with Samaritas, Fostering Futures, and Homes for Black Children. The organization has given away half of their 800 complimentary matinee tickets for under-resourced children and their families. In addition to finding people to take the rest of these tickets, their goal is to pack the Ford Community & Performing Arts Center for an evening showing on Aug. 20.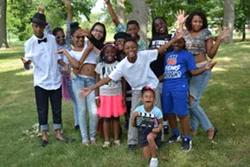 Justin, who plays the titular character, started touring Ivy Leagues and HBCUs in elementary school. These expeditions were not cheap, but his mother made the investment. He is a versatile musician and accomplished student who does not go easy on himself when he makes a mistake, and the severity of his self-critiques can be surprising.
The only other thing Justin puts as much time into his education is his family. If they could find no other baby sitter, he would watch his newborn brother Triston while his mother worked. His sister Breanna is his best friend, and he and his mother are the perfect collaborators: Neither could succeed without the other.
"I think we have a very good mutual understanding for each other," Justin says of his mother. "If she's not perfect, then I understand, and if I mess up in something, she's not going to dwell."
His mother knows that he needs more to be happy, though. "I can tell his mind is somewhere else," Malone says tearfully. "It's not here in Detroit. It's not here. He wants something else and I just hope he gets it."
Watching Justin and the other young actors of An'Dee rehearse reveals a mix of lightheartedness, group critique, and growth through repetition. Kids will be kids with their good-natured teasing and side conversations, but these actors also show commitment to dynamic movement onstage and the development of unique personalities. These are not professional actors; only a few, including Justin, have studied art formally.
Fleming, who is the executive producer of the musical, was clear about her intentions. After watching a performance of Mary Poppins staged by the Ann Arbor Young People's Theater, she wanted to see a similarly high-quality, accessible model of theater in the inner city.
"Interestingly enough, there are very few entities outside of the school systems that do youth theater in our culture," Fleming says. "Now there are a lot of youth theaters. But most of them are geared toward European-Americans or kids of means."
Melissa Talbot, who is co-directing An'Dee alongside Richard Bass, expressed similar sentiments.
"A lot of people have talent," Talbot says. "But a lot of people just can't afford it."
Talbot has worked with nationally known talent before and, she says, the fundamental difference between national and local talent is that one group hasn't had a chance to display their abilities to a broad audience.
Even as it is still in development, An'Dee is a paradox of circumstance. It is an unlikely musical with an improbably well-rounded leading man. The production was built on the belief that individuals who live in the world's peripheral vision are capable and worthy of staging something as well as anyone else, and its talented cast is on its way to proving that point.
There are two performances of An'Dee; 2 p.m. (free matinee for foster care youth, homeless children, and their families) and 7:30 p.m. (general performance), Saturday, Aug. 20, at Ford Community and Performing Arts Center, 15801 Michigan Ave., Dearborn. For more information, please visit andeeproduction.com/index.html, call 313-300-7447, or email Dr. Fleda Fleming at [email protected]