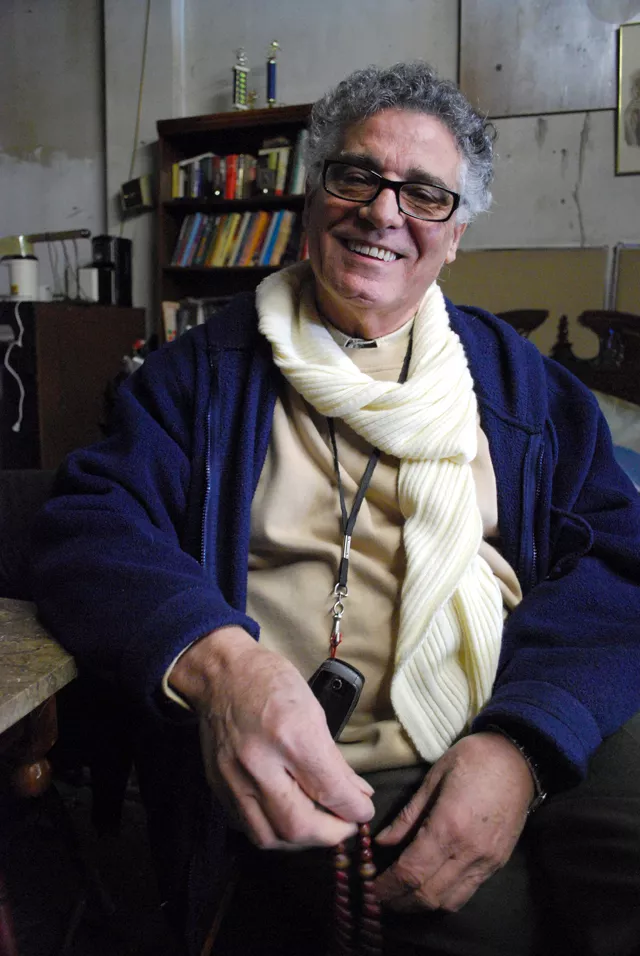 Thirty-three prayer beads lie strung in the loop that hangs softly in his hands. Thirty-three times he threads them between his finger and thumb, telling himself with each bead that God is great.
This is how Mogtaba Shirdel, known as Mike, passes the afternoon nowadays, in the quiet backroom of his store, Mike's Antiques. It's a custom he brought with him from the old country.
"As you can see, nobody comes," says the 70-year-old Iranian, pointing to his front door, which faces Morang Drive on Detroit's east side. "Maybe one or two, they just come in and walk and go."
Shirdel has the ways and looks of an Old World gentleman — dapper and traditional, yet gregarious and warm. He's got a thicket of salt-and-pepper curls, wears a loose wool scarf thrown gracefully around his neck, and says things in a Persian accent with an elegant lilt.
Times are tight and business is slow. Gas bills are too high to put the heat on, so he wears a jacket and scarf when he's in the shop. Same goes for the electric bill, so he relies on the soft winter daylight that pours through the windows. And after 23 years here, his landlord has the building up for sale, making every day part of a countdown to a closing date that Shirdel doesn't yet know.
"It's just a hobby now, that's all," he says. He doesn't like being alone in his apartment all day, so he hangs around the shop, sipping Lebanese tea brewed in a charred teapot on an old stove in the corner. The voice of an Iranian television newscaster beamed here from halfway around the world shouts from the television. And he thumbs his beads, one by one, waiting for customers, waiting for the last day.
But he likes it like this. It took a lifetime before he could take it easy like this. You might not know it, seeing him sitting back with one leg softly draped over the other, that he spent most of his life working himself ragged, trying to make it in America, then just trying to make it.

Life IN TEHRAN was good until the mid-'60s, when his father's semi-truck business went bankrupt and the family went broke. Shirdel suddenly had to support two old parents and seven young siblings on a high school education. And there were few opportunities at home.
"You talk to the friends, they say America is a gold mine," he says. So he blindly came to New York City alone, at 26, with $300 in his pocket and not a word of English in his vocabulary.
He slowly picked up the language by looking things up, one word at a time, in a thick, Persian-English dictionary he took everywhere. He'd translate words he saw on subway posters or overheard on TV, or he'd pull it out when someone said something to him and painstakingly try to figure out what it meant. He still has it, all cracked spine and torn pages, on a shelf in the back room.
The man was born to work. His first job was at a textile plant, but then he took on extra jobs at coffee shops and restaurants and delis and a movie theater. He drove a cab too, and later a limo. He'd even take one-day jobs through the local employment agency sometimes, just to earn a few more bucks.
"If you don't work hard, you don't get nowhere," he says. "You have to work, hard work. I done everything because I take care of my family, send them money," he says. "I always hustling."
At one time three of his jobs overlapped, leaving him working from Friday at 6 a.m. to late Sunday night, with an hour break between each. He'd take naps in hotel lobbies or on the subway in the sliver of time between jobs.
This schedule soon unraveled. He once passed out head first onto the table at a restaurant during a date with a girlfriend, he says. Then he excused himself and took a nap in the bathroom. And there was the time he fell asleep for 24 hours straight without knowing it and missed a whole day of work. It cost him one of the jobs. He just went out and found another.
All the while he'd pay his bills and send whatever money he had left back to his family in Iran. He didn't go to movies, rarely went out to eat, never went to clubs. He admits he missed out on a lot in life because of self-denial for his family.
"I do anything for them," he says, his eyes tearing up. "Anything. The family is the blood in you; it's something you cannot forget. You grow up together, you live together, you eat together, you sleep together. All of this stays with you, it's part of you. So if you can do something for them and you don't do it you're a disgrace to God. A lot of people don't understand that."

One day a woman at the airport got into his cab. "I look at the mirror and she's looking at me in the mirror," he says with a wink. "I had the big curly hairs. I was young." They swapped phone numbers. Months later he married her.
She was from Detroit and convinced him to move back here. Once again he plunged into work, starting a limo service and buying rental properties for income. He initially got the shop as storage space for things he'd need for his houses — screen doors, windows, toilets. After he'd cleaned it and carpeted it, though, he changed his mind. "I said, well, it's too good to put the toilets there." Instead he started an antique shop with a few items he had on hand.
His marriage fell apart and he lost his properties in the divorce, leaving him with little more than his store. He moved into it for 13 years, living in the back room until just recently, settling into being an antiques dealer. But he sold it not long ago to pay some bills. In a few years he went from being a landlord of several properties to a renter of one.
Now, after years here, he has the familiar Detroit misfortune of owning a shop in a neighborhood that started out one way and has now ended up another, very different way. Before, the area was middle-class, and people living nearby had a taste for antiques, or had old houses full of old things they'd sell him.
"Everywhere from all over the country they used to come, 'cause they know I have nice pieces. And then what happened is changes, change, change, so all the white [people], they scared and they moved out."
Pretty soon the neighborhood filled with new residents who didn't have much money or urge to purchase his fine china, or antique oak dressers, or the coffee tables inlaid with marble.
Shirdel eventually amended his sign outside to say "Resale Shop" in a nod to the changes around him. He started selling some old clothes that people buy sometimes, but few customers browse the record albums, and books just don't get read by the residents living nearby. Meanwhile, the antiques go unsold unless a stray collector happens by the store, a place few outside the neighborhood know about, but a place where few from the neighborhood actually shop.
So a lifetime of hard work has finally wound down to a day like this one — a lone gentleman in a quiet room, immersed in the faint smell of antique wood and yellowed books, enjoying the pleasure of something as simple as sitting back awhile.
A woman rings the doorbell and Shirdel gets up, lets her in. She just moved a street over and came to browse for the first time. She doesn't buy anything, though.
"What is that accent?" she asks him. "Persian," he replies. "It's very exotic," she says. Her comment draws a charming smile from him.
After she leaves, the only voice heard in the cold room is that of the newscaster from back home. Shirdel goes back to his seat, sips his tea and draws his beads through his fingers. Thirty-three times once more.