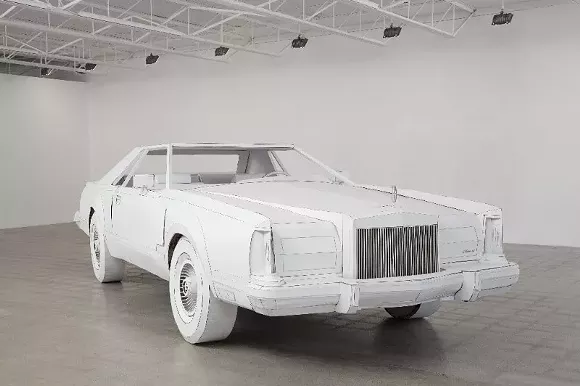 While artist Shannon Goff currently teaches at Penn State University in Pennsylvania, she's a native Detroiter — which means, of course, that the automobile inescapably holds a special place in her psyche. For her first solo exhibition at Susanne Hilberry Gallery, Goff made a life-size cardboard rendition of her grandfather's 1979 Lincoln Continental Mark V.
On Saturday, Nov. 7 she'll be present at the gallery from 2 p.m. to 4 p.m. for an artist talk. We caught her by phone to learn more about her work.
Metro Times:
Do you normally work this way, in cardboard?
Shannon Goff:
Cardboard and clay are my two preferred mediums.
MT:
When did you start this project?
Goff:
I started building in January 2014 — or trying to figure out how to build it. Starting was perhaps the hardest part as the scale was overwhelming. It's taken nearly two years as I've been juggling teaching full time and parenthood along with the studio. It's been a true labor of love but well worth it.
MT:
Your work looks very intricate and very faithful to the original. Do you have a background in technical drawing or design?
Goff:
No, not at all, I can barely draw a straight line with a ruler. Let me clarify: I don't view the car as a replica. It's a translation, akin to a 3D contour drawing, inflated into space. It's not a faithful replica, like that
cardboard Lexus
that was recently circling the blogosphere. I'm not interested in the rigid or perfect. My gestural line is translated through negative space where the cardboard sheets almost meet. It's the gesture and imperfection of the line that humanize the car. I also take liberties. For example, the car doesn't have a floor.
MT:
How did you start working this way?
Goff:
I initially started using cardboard back in grad school at Cranbrook back in 2002, as an intermediate material. My ceramic work was growing more ambitious in scale and I was struggling with gravity. After intending to employ cardboard to build a model, I became seduced by the material and wanted to keep working with it. It allows me to engage space in a very different way.
MT:
So for this car, were you using a real car for reference, or just photos?
Goff:
Mostly photos and memories of my grandfather's Lincoln.
MT:
How did you make it?
Goff:
I ordered a little 1:64 scale model from some place in the Netherlands. My husband,
Tom Lauerman
— who's incredibly technically gifted - helped me 3D scan the car before running it through a Japanese open source program called Pepakura which basically sliced the Mark V into 40 or 50 layers. I printed out all of the umpteenth layers on to transparencies, projected them with an old school overhead projector on to sheets of honeycomb board, traced them with a sharpie and coded them before cutting the shapes out with a jigsaw in my garage studio. This tedious process took two or three months. I then laminated them forming the bones of the car. From there I started skinning the car with an e-fluted cardboard working my way from the outside in. This '79 Mark V was all about the voguish details so I knew I had many months of crafting ahead of me.
MT:
How do you transport it? Does it come apart?
Goff:
The wheels come off the axles, and the axles come off the car. Everything else is one piece. It was transported here in a 26-foot moving truck. Coincidentally, the truck gets the same mileage as the car, 10-12 mpg. It's an interesting yet terrifying connection.
Miles to Empty is ultimately a story of personal triumph, regional disaster and global change.
Come out on Saturday and we can discuss more.
Goff has an artist talk from 2 p.m. to 4 p.m. on Saturday, Nov. 7 at Susanne Hilberry Gallery; 700 Livernois St., Ferndale; 248-541-4700; hilberrygallery.com; runs through Nov. 21.