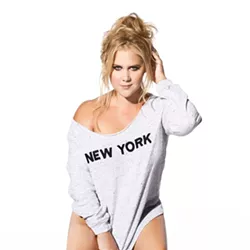 Friday, 10/7
Amy Schumer
@ Joe Louis Arena
Known for her roles in Trainwreck and Inside Amy Schumer, this comedian, actress, producer, author, and all-around interesting human being is hitting the Joe to dole out a night full of ridiculous jokes, absurd comments, and side-splitting laughs. We can't wait to see what she's got to say about Detroit.
Starts at 8 p.m.; 19 Steve Yzerman Dr., Detroit; ticketmaster.com; 800-745-3000; tickets start at $40.
Wed-Mon., 10/5-9
A Gentleman's Guide to Love and Murder
@ Fisher Theater
This Tony Award-winning musical is coming to Detroit, and it will feature all the colorful and off-the-wall theatrics the show is known for. The only thing — or people — standing in the way of Monty Navarro and his fortune are eight relatives. While he plots his way to riches, the audience follows him navigating his way around a fiancé, a mistress, and the police.
Starts start at 8 p.m. Wednesday through Friday, 7:30 p.m. on Saturday with matinees at 2 p.m. on Saturday and Sunday; 3011 W. Grand Blvd., Detroit; 800-982-2787; broadwayindetroit.com; tickets start at $29.
Fri.-Sat., 10/7-8
Love Jones: the Musical
@ Fox Theatre
You may remember this classic '90s flick starring Nia Long and Larenz Tate. It followed two young lovers as they aspire to fulfill their creative goals. This musical adaptation, starring MC Lyte and Dave Hollister, will delight fans of romantic theater. Over 27 original songs are being performed all drawing inspiration from the movie. Plus you get to enjoy the majestic beauty of the Fox Theatre. Win-win!
Starts at 8 p.m.; 2211 Woodward Ave., Detroit; 313-471-3200 olympiaentertainment.com; tickets are $60-$90.

Thur.-Sun., 10/6-9
Murder Ballad
@ Max M. Fisher Music Center
The Detroit Public Theatre opens its season this coming week with a rock musical entitled Murder Ballad. Italian triple threat Arianna Bergamaschi makes her U.S. stage debut as an uptown girl named Sara whose downtown past lingers enticingly and dangerously in front of her. The explosive rock musical explores the complications of love, the compromises we make, and the betrayals that can ultimately undo us. The cast includes many Detroit natives and an exciting storyline that will leave audiences in awe.
Shows start 8 p.m. Thursday-Saturday, Sunday matinee starts at 2 p.m.; 3711 Woodward Ave., Detroit; detroitpublictheatre.org; 313-576-5111; tickets are $34-$45.
Sat.-Sun., 10/8-9
Detroit Art Book Fair
@ Trinosophes
Independent publishers will be selling their books and prints at Eastern Market's cutest coffee shop/art gallery/performance space — Trinosophes. DittoDitto, a book store located on Trumbull, will be sponsoring the event. Publishers from the United States and Canada will be selling prints, books, and more.
Starts at noon; 1464 Gratiot Ave., Detroit; dittoditto.org.