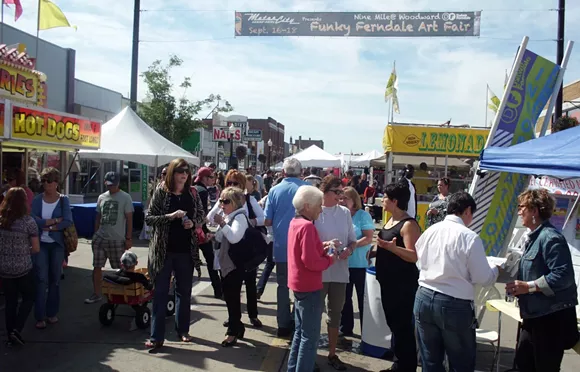 Friday, 9/23
Detroit Afrikan Funkestra
@ Oakland Urban Farm
Part of the 2016 Detroit Design Festival, the Detroit Afrikan Music Institution presents the Funkestra. It will delve into the musical world of Afrofuturists and musical innovators. DAMI is located in Detroit's North End, and is known for its ultra-shiny space-ship DJ booth, the Mothership. Which really sums up what these guys are about, bridging the gap between traditional African music and the emerging artists of today.
Event runs from 6-9 p.m.; 9227 Goodwin St., Detroit; dami-detroit.org; Admission is free.

Fri-Sun, 9/23-25
Funky Ferndale Art Fair
@ Downtown Ferndale
If you are into ironic collages, iron jewelry, and cute stuffed animal owls, you might find yourself drawn to attending the Funky Ferndale Art Fair this Saturday. Thinking about getting a cool accessory to kick off your Halloween costume? They have some fancy, feathered witch hats. Maybe you wanted to get your boyfriend an awesome steampunk lamp for his birthday. If it is carnival food, shopping, and hanging in Ferndale you're after — look no further than Nine Mile and Woodward.
Event runs Sept. 23 from 3-7 p.m., Sept. 24 from 10 a.m.-7 p.m., Sept. 25 from 11 a.m.- 6 p.m.; funkyferndaleartfair.com; Nine Mile and Woodward, Ferndale; Admission is free.

Saturday, 9/24
Fleatroit Junk City
@ UFO Factory
While enjoying the fabulous hot dogs at Laika Dog in the UFO Factory, you can also enjoy some serious fall shopping. The fall season is upon us, and so is the Fleatroit Junk City event, fall edition. Doodads, whatnots, whathaveyous, and sweaters will be available to peruse and purchase at this flea market extravaganza.
11 a.m. to 4 p.m.; 2110 Trumbull St., Detroit; ufofactory.com; Admission is free.

Saturday, 9/24
Transgender Health Fair
@ Affirmations
"A lot of transgender people haven't seen a doctor in years and years," says Rachel Crandall-Crocker, the executive director of Transgender Michigan. "They're afraid of health care institutions because they're worried they will be discriminated against. They're worried they won't be understood."

Crandall-Crocker says when she first told her doctor she was trans, he tried to talk her out of it.

"Most health care professionals haven't had any training in caring for transgender people and they don't understand how to react to it," she says.

That's why she and Transgender Michigan have hosted a special annual health fair for the last five year. They're hoping to cater to this minority group that's often ostracized and overlooked.

"We'll have a couple doctors who specialize in trans health, we'll have health screenings like blood pressure readings and other regular screenings," says Crandall-Crocker. They'll also have more specialized health care professionals like speech therapists.

"A lot of trans people need help with their voice," she says. "When they transition their voice doesn't match with their new gender and they need help with that."

The health fair takes places on Saturday, Sept. 24 at the Ferndale Affirmations location at 290 W. Nine Mile Rd. It runs from 1 to 4 p.m. and entry is free.

Sunday, 9/25
Wicked Finds at The Vintage Market
@ Monroe County Fairgrounds
The barn house chic look is an acquired taste, but it certainly has a huge following of decorators and collectors alike. If you are looking for a unique marketplace experience, Wicked Finds will have a variety of shabby chic tables, twine-wrapped doo-dads and even stuff like flowers in a vintage therma-jug container. If you are looking to scratch your shopping itch this weekend, this could be an interesting opportunity to do so.
Runs from 10 a.m.- 5 p.m.; 3775 Custer Rd., Monroe; thevintagemarketmi.com; Admission is free.