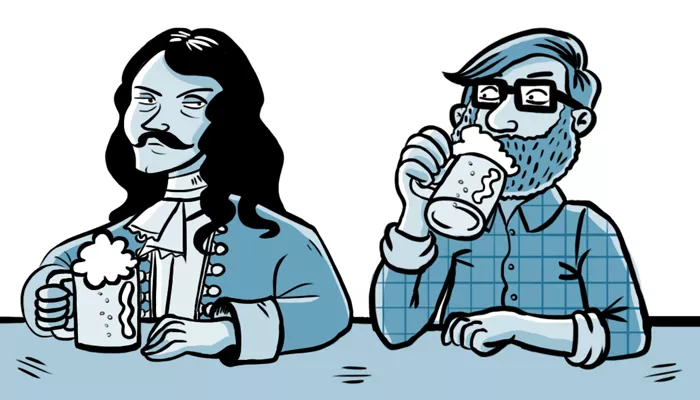 Even before Detroit was settled, the French explorers plying the waters of the Great Lakes looked longingly on its grapes. Just "passing through" with the explorer La Salle in 1679, Franciscan priest Louis Hennepin wrote of what he saw: "The banks of the strait are vast meadows, and the prospect is terminated with some hills covered with vineyards, trees bearing good fruits." Unfortunately, Hennepin and La Salle sailed on to found Fort Crevecoeur in present-day Illinois. Detroit would have to wait another 22 years to be founded by that rapscallion Cadillac.
Wine, of course, occupies an important place in French culture, and so it wasn't long before those grapes featured in the ambitions of Cadillac's men. In 1702, an account observed: "Grapes grew in abundance along the river shore, and an arpent, of land was set apart, tilled, and set out with the choicest grapevines, in hopes that cultivation would improve the fruit." And so began several generations of Francophone families enjoying alcohol. In her book Hidden History of Detroit, Amy Elliott Bragg describes how the city's new governors, Yankees from New England, found the French "exceeding ignorant and lazy," drinking their "plentiful brandy."
But the new inhabitants were wont to look the other way at their own partiers. As Bragg tells it, "At a soiree at the Hubbard House in Mount Clemens in 1838 … Gov. Mason was said to have knocked back 14 toasts and then jumped up on the banquet table and paced back and forth." A commenter later qualified the boy governor's revelry, saying, "Every adult male in Mount Clemens was drunk that day." According to historian George W. Stark, "Back in the 1850s, Detroit was what the police of our time would designate as a wide-open town. … Drinking was the rule rather than the exception, and in the gay social circles every sideboard boasted its decanter." One of Detroit's storied rascals, gambler, drinker, and raconteur Jim Scott was memorialized in a statue on Belle Isle — over the vociferous objections of the clergymen of the day.
Before Prohibition, taverns and saloons were the order of the day. It's worth noting, however, that these businesses were everything to the average workingman: meeting place, cafeteria, flophouse, political society, hiring hall, and, last but not least, drinking establishment. One of the most famous was in the wharf district south of Jefferson. It was called the Bucket of Blood, and it was owned by Billy Boushaw, or Billy the Bum. His clientele included men with such ugly names as Shang O'Neill and Broken-Nose Rogers, and Boushaw, an abstemious nonsmoker, took care of these wandering sailors. Boushaw also leveraged his power over them to deliver votes that put his candidates over the top. A childhood friend of John C. Lodge, Billy the Bum made many a Detroit politician as "king" of his district.
Prohibition definitely affected the way Detroiters drank. They drank much, much more. In 1918 before prohibition, Detroit had 2,334 liquor-serving establishments. During the height of prohibition, 1925, Detroit had 15,000 establishments that served alcohol. Some estimates of speakeasies ranged as high as 25,000. And unlike the taverns of old, women were as likely to be guests as men. Free Press columnist Malcolm Bingay wrote what has now become a famous sarcasm: "It was absolutely impossible to get a drink in Detroit unless you walked at least 10 feet and told the busy bartender what you wanted in a voice loud enough for him to hear you above the uproar." The competition over turf caused the deaths of untold numbers of people — police, gangsters, and civilians.
No part of town was more "wide open" than Hamtramck. Hamtramck historian Greg Kowalski notes, "Vice was so rampant that the Wayne County prosecutor asked the governor to send in the state police to take control of law enforcement. In 1923, the state police conducted nearly 200 raids in the small city. … On one small street block, Charest between Holbrook and Evaline, six houses nearly side by side were raided."
By May of 1929, The New York Times published a full-page article headlined "Our 'Rum Capital': An Amazing Picture," stating "The manufacture and the sale of automobiles in Detroit involves nearly $2 billion annually and the chemical industry is rated at about $90 million. Between the two stands Detroit's illegal liquor traffic, estimated at $215 million."
After Prohibition, Detroit's drinking scene settled down a bit and breweries blossomed again. Dormant Detroit breweries sprang to life again, including such brands as Stroh, Goebel, Altes and Pfeiffer. The ensuing decades of consolidation and large brewing companies gradually transferred these big brewing operations out of state, leaving Detroit without the active brewery culture of bygone days. Luckily, however, craft brewers began pushing for a loosening of the state's laws on brewing, and it has touched off a brewing revolution in the state. Not only is Michigan's craft beer scene one of the best in the country, a local distilling scene is beginning to crop up as well, with such distillers as Valentine in Ferndale and Two James in Detroit, the first licensed distillery in Detroit since the repeal of Prohibition.